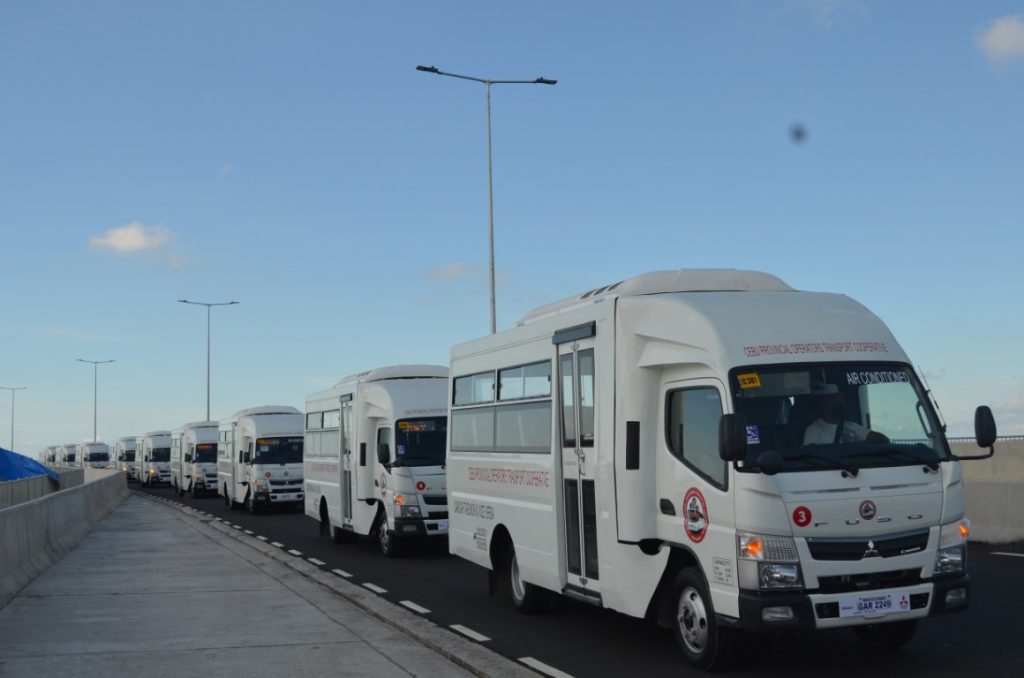 Carcar City, Cebu, Philippines, June 15, 2022 — A total of twelve (12) brand-new FUSO Canter Express (Class 3) modern PUVs were formally turned over to Cebu Provincial Operators Transport Cooperative (CPOTC) for their deployment in Carcar – Tabunok loop.
During the turnover proceedings held at Poblacion III, Awayan, Carcar City, Cebu, the partnership between SFP and CPOTC was facilitated by FUSO Mactan. CPOTC is the first transport cooperative to purchase FUSO units to comply to the PUV modernization program of the local government in Carcar City.
Attending the turnover ceremonies were SFP executives led by Executive Vice President for Sales and Marketing, Mr. Noriyuki Sekita, Manager for Vehicle Sales, Mr. John Michael Ignacio, Vehicle Sales Account Officer, Mr. Gio Miguel Miras, and Assistant Manager for Product Planning, Ms. Nolyn Mae De Guzman, as well as FAPC Assistant Vice President, Mr. Dax Albarece, FAPC Sales Manager, Mr. Michael Biton, LTFRB Planning Officer III, Mr. Victor Cosep, CPOTC Founder Mr. Julie Flores, and Carcar City, Mayor-Elect, Mr. Patrick Barcenas.
FAPC Assistant Vice President, Mr. Dax Albarece mentioned in his message, "We congratulate CPOTC in this milestone of providing the first modernized PUV fleet in Southern Cebu. CPOTC pioneers the routes with FUSO as its partner brand. We are honored to be part of CPOTC's journey to be the premier transport provider in Carcar, City."
FUSO Canter Express has been assembled from the Canter FE73 platform. These are air-conditioned Class 3 vehicles with a front-facing seat configuration that can accommodate up to 24 passengers. The modern PUVs are also equipped with accessories as required by the Land Transportation Franchising and Regulatory Board (LTFRB), such as CCTVs and recorder, Wi-Fi, GPS tracking system, LED (Route) Signage, and LCD monitor. Transport Cooperatives can also choose their automated fare collection system based on their preference.
"We are very excited as we provide CPOTC with our FUSO Canter Express which aligns to PUV modernization program rolled-out by the local government here in Carcar City. This turnover ceremony signifies our relationship with CPOTC and we are very confident that FUSO will be able to provide more durable, comfortable, and safe transport solution to the public commuters of Carcar City." says Mr. Noriyuki Sekita, SFP EVP for Sales and Marketing.
In line with the PUV modernization program, the government envisioned replacing some traditional jeepneys nationwide with new, safe, convenient, and comfortable public transportation. Both FUSO Canter Commute and Canter Express are designed to deliver powerful driving performance, longevity, and reliability.
SFP's top priority is providing quality transport solutions to Filipino commuters. The continuous partnership with transport cooperatives to modernize their PUV fleets mark the world-class standard of FUSO, and its body builder partners.
Visit www.fuso.com.ph for more information.
Follow us on social media:
Facebook: www.facebook.com/FusoPhilippines
Instagram: www.instagram.com/fuso.ph
YouTube: www.youtube.com/c/FUSOPhilippines
Viber: bit.ly/FUSOPH-Viber-Channel
Contact:
John Ferd Cabeliza, Advertising and Public Relation Specialist, SFP
Phone: (02) 8234 2484 e-Mail: [email protected]

Jomary "Joms" Ilaw, Advertising and Public Relation Specialist, SFP
Phone: (02) 8234 2484 e-Mail: [email protected]

Website: www.fuso.com.ph
E-mail: [email protected]
FUSO at a Glance
FUSO is a brand of commercial vehicles manufactured by Mitsubishi Fuso Truck and Bus Corporation (MFTBC) and Daimler India Commercial Vehicles (DICV). Currently, FUSO represents a holistic line-up of products and services that match the needs of customers in over 170 markets. The FUSO product positioning covers a wide spectrum, from robust and economic trucks for growth regions, to cutting-edge mobility solutions with industry-leading technology and reduced environmental impact. FUSO is particularly renowned for its offerings in the light-duty segment – the Canter light-duty truck claims the top share in various markets around the world. Throughout the decades, FUSO trucks and buses have leveraged Japanese quality and craftsmanship to set benchmarks in efficiency, safety, and comfort.
MFTBC at a Glance
Based in Kawasaki, Japan, Mitsubishi Fuso Truck and Bus Corporation (MFTBC) is one of Asia's leading commercial vehicle manufacturers, with 89.29% of its shares owned by Daimler Truck AG and 10.71% by various Mitsubishi group companies. An icon in the Japanese commercial vehicle industry with a longstanding history of more than 85 years with its FUSO brand, MFTBC manufactures a range of commercial vehicles including light, medium, and heavy-duty trucks and buses, and industrial engines for over 170 markets worldwide. In 2017, MFTBC introduced the eCanter all-electric light-duty truck as a series-production model and in 2019, the Super Great – Japan's first heavy-duty truck fitted with Level 2 Automated Driving Support Technology, a benchmark in the Japanese commercial vehicle market. MFTBC operates under the umbrella of Daimler Trucks Asia, together with its partner organization Daimler India Commercial Vehicles (DICV) in India. This strategic unit allows the entities to collaborate on areas such as product development, parts sourcing and production to provide the best value to customers.
Daimler Trucks Asia at a Glance
Daimler Trucks Asia (DTA), under Daimler Truck AG, is an organizational unit that jointly operates Mitsubishi Fuso Truck and Bus Corporation (MFTBC) – an icon in the Japanese commercial vehicle industry with more than 85 years of history with its FUSO brand – and Daimler India Commercial Vehicles (DICV), an up and rising challenger in the Indian market. DTA adopts a strategic business model that allows its group entities to collaborate on product development, production, exports, sourcing and research activity to provide innovative, cutting-edge and best-value products to customers. DTA's vision is "to develop mobility solutions to embrace a better life for people and the planet," and is aligned with Daimler Truck's purpose, "For all who keep the world moving."
Sojitz Corporation
As a general trading company, the Sojitz Group is engaged in a wide range of businesses globally, including buying, selling, importing, and exporting goods, manufacturing and selling products, providing services, and planning and coordinating projects, in Japan and overseas. The Group also invests in various sectors and conducts financing activities. The broad range of sectors in which Sojitz operates includes those related to automobiles, plants, energy, mineral resources, chemicals, foodstuff resources, agricultural and forestry resources, consumer goods, and industrial parks. Sojitz has run so many kinds of automotive business all over the world such as CKD production, wholesale, and Retail. In the case of the business in Philippine, Sojitz has been engaged to the automotive business since 1969.