FUSO Parts
Genuine Parts
Engineered by FUSO with passion and precision just like your truck, to give you the best in quality & reliability. This means you can rely on increased longevity, availability, as well as enhancing the resale value of your vehicle. By choosing Fuso Genuine Parts you will benefit from maximum performance and safety at all times. The availability of the required genuine parts determines the downtime of your vehicle. Turn to your nearest authorized Fuso dealer for quick supply of the genuine parts needed to keep your truck running.
The benefits of Fuso Genuine Parts

Brochure Download
FUSO Genuine Parts and Accessories

Take a look at the Fuso Genuine Parts and Accessories brochure for the parts' descriptions and advantages on your vehicle.

Download Brochure
Fuso Value Parts
Fuso Value Parts are a new concept in maintenance parts. Their aim is to ensure reliable operation and increase your profitability. Offering quality equivalent to that of our genuine parts at a reasonable price.
Fuso Value Parts are an additional choice of parts for Fuso customers. The quality of FVPs is secured and approved by the original manufacturer, Mitsubishi Fuso Trucks and Bus Corporation, and are offered to customers at attractive prices. FVPs are specifically for owners with vehicles after warranty. On top of our current product line, more parts are planned to come.
When should you compromise on quality and value when it comes to parts you need to operate your business? The short answer is: never. With Fuso Value Parts, you are assured of authentic parts of the highest precision manufacturing guaranteed by Mitsubishi Fuso, without having to pay a premium. For excellent value at affordable prices, we have made the choice easy.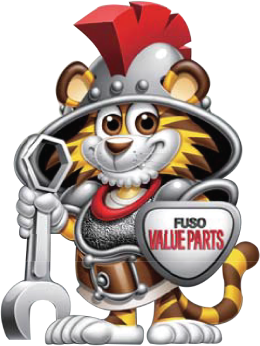 Privacy Policy
By using this website, you acknowledge that you have read, understood, and agreed to our Privacy Policy, and consent to the collection, use, and processing of your personal data by us.