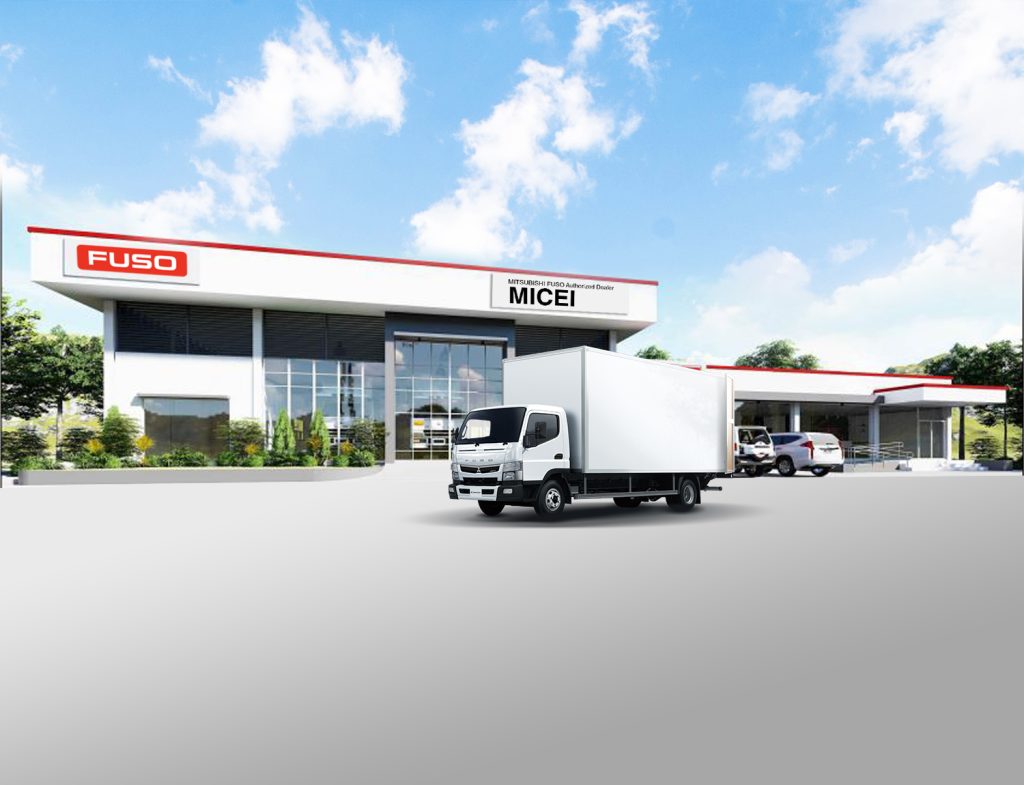 South Cotabato, Philippines, June 16, 2022 — Sojitz Fuso Philippines Corporation (SFP) opened Mindanao Integrated Commercial Enterprises, Inc's (MICEI) FUSO outlet last June 16, 2022, as addition to its nationwide network of dedicated dealerships.
South Cotabato is a province in the Philippines situated in the SOCCSKSARGEN region occupying the southern-central section of Mindanao. As the province progresses and moves towards agri-industrialization, more potential businesses and establishments are being developed in South Cotabato.
MICEI has been part of the FUSO network for over 30 years as a shared dealership with Mitsubishi Motors and has significantly contributed to our presence in Mindanao, addressing the growing demand of FUSO commercial vehicles in the region.
MICEI – FUSO South Cotabato is strategically located in Pan-Philippine Highway, Brgy. Silway 7, Polomolok, South Cotabato. The location is considered a prime spot as it is near several industries of food, agriculture, local establishments, and its neighboring cities. The showroom offers two (2) vehicles display, service workshop and spare parts that provide certified services to accommodate its valued customers.

Mr. Nereo Placido Regollo Jr., MICEI – FUSO South Cotabato's President, mentioned in his special message that, "We always strive to give our clients the utmost importance — from the time you purchase our FUSO products to aftersales, which means providing you the best services by our certified FUSO technicians and making sure of parts availability."
"We all know that the pandemic has created a havoc not only to our usual lifestyle but to the economy as well. With this, we need to help each other more to rise from these challenges." He also added mentioning the challenging situation given by the pandemic.
"I would like to congratulate MICEI in formally opening our 9th FUSO dedicated dealership, located here in Polomolok. As province with numerous natural sceneries and tourist attractions, we are happy to be part of the continuous growth in the southern part of the island of Mindanao. We, at SFP, are deeply committed to our service of the best quality and dedication to provide access and convenience to the people of South Cotabato as well as neighboring provinces in Southern Mindanao." says SFP President and CEO, Mr. Yosuke Nishi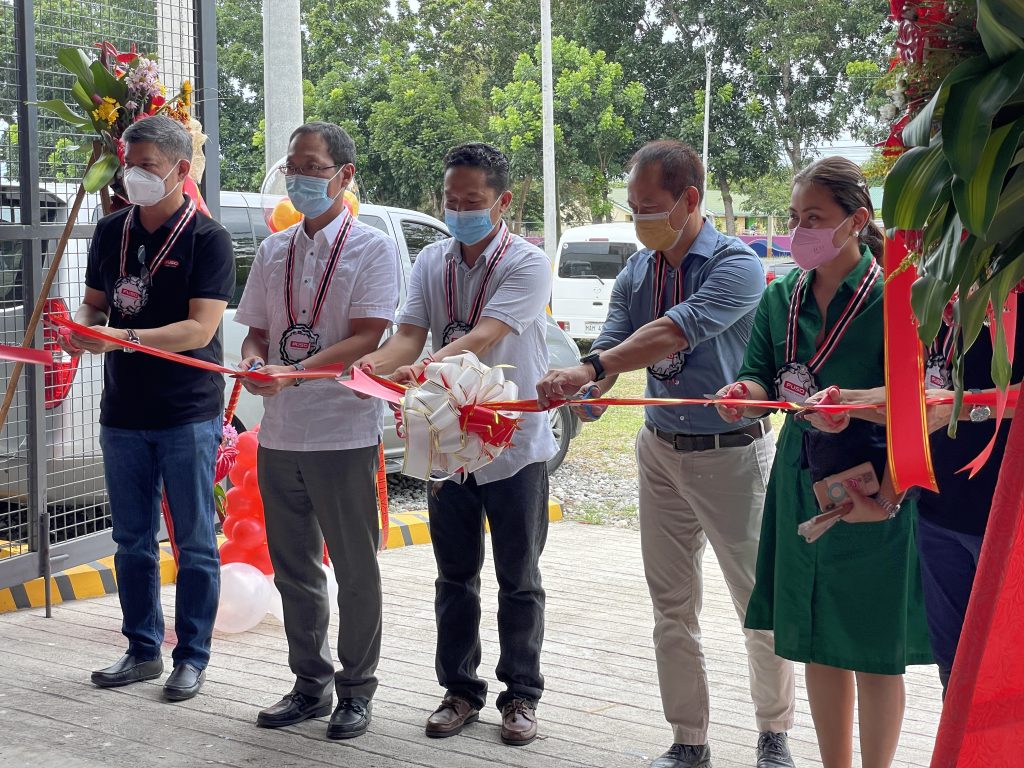 As SFP continues its aggressive plans on dealer network expansion, it aims to further strengthen its market performance in the commercial vehicle segment. SFP and its dealers will work hand-in-hand to provide the utmost customer service, and long-lasting relationship with customers moving forward.
You may visit MICEI – FUSO South Cotabato from Mondays to Saturdays from 8:00 AM to 5:00 PM. Customers may dial (+63) 915 056 7623 or contact their Facebook page www.facebook.com/FUSOGenSanOfficial for more information.
To learn more about the FUSO brand, visit www.fuso.com.ph or go to the official Facebook page www.facebook.com/FusoPhilippines to be the first to know about the latest news, promos and services.
Follow us on social media:
Facebook: www.facebook.com/FusoPhilippines
Instagram: www.instagram.com/fuso.ph
YouTube: www.youtube.com/c/FUSOPhilippines
Viber: bit.ly/FUSOPH-Viber-Channel
Contact:
John Ferd Cabeliza, Advertising and Public Relation Specialist, SFP
Phone: (02) 8234 2484 e-Mail: [email protected]

Jomary "Joms" Ilaw, Advertising and Public Relation Specialist, SFP
Phone: (02) 8234 2484 e-Mail: [email protected]

Website: www.fuso.com.ph
E-mail: [email protected]
FUSO at a Glance
FUSO is a brand of commercial vehicles manufactured by Mitsubishi Fuso Truck and Bus Corporation (MFTBC) and Daimler India Commercial Vehicles (DICV). Currently, FUSO represents a holistic line-up of products and services that match the needs of customers in over 170 markets. The FUSO product positioning covers a wide spectrum, from robust and economic trucks for growth regions, to cutting-edge mobility solutions with industry-leading technology and reduced environmental impact. FUSO is particularly renowned for its offerings in the light-duty segment – the Canter light-duty truck claims the top share in various markets around the world. Throughout the decades, FUSO trucks and buses have leveraged Japanese quality and craftsmanship to set benchmarks in efficiency, safety, and comfort.
MFTBC at a Glance
Based in Kawasaki, Japan, Mitsubishi Fuso Truck and Bus Corporation (MFTBC) is one of Asia's leading commercial vehicle manufacturers, with 89.29% of its shares owned by Daimler Truck AG and 10.71% by various Mitsubishi group companies. An icon in the Japanese commercial vehicle industry with a longstanding history of more than 85 years with its FUSO brand, MFTBC manufactures a range of commercial vehicles including light, medium, and heavy-duty trucks and buses, and industrial engines for over 170 markets worldwide. In 2017, MFTBC introduced the eCanter all-electric light-duty truck as a series-production model and in 2019, the Super Great – Japan's first heavy-duty truck fitted with Level 2 Automated Driving Support Technology, a benchmark in the Japanese commercial vehicle market. MFTBC operates under the umbrella of Daimler Trucks Asia, together with its partner organization Daimler India Commercial Vehicles (DICV) in India. This strategic unit allows the entities to collaborate on areas such as product development, parts sourcing and production to provide the best value to customers.
Daimler Trucks Asia at a Glance
Daimler Trucks Asia (DTA), under Daimler Truck AG, is an organizational unit that jointly operates Mitsubishi Fuso Truck and Bus Corporation (MFTBC) – an icon in the Japanese commercial vehicle industry with more than 85 years of history with its FUSO brand – and Daimler India Commercial Vehicles (DICV), an up and rising challenger in the Indian market. DTA adopts a strategic business model that allows its group entities to collaborate on product development, production, exports, sourcing and research activity to provide innovative, cutting-edge and best-value products to customers. DTA's vision is "to develop mobility solutions to embrace a better life for people and the planet," and is aligned with Daimler Truck's purpose, "For all who keep the world moving."
Sojitz Corporation
As a general trading company, the Sojitz Group is engaged in a wide range of businesses globally, including buying, selling, importing, and exporting goods, manufacturing and selling products, providing services, and planning and coordinating projects, in Japan and overseas. The Group also invests in various sectors and conducts financing activities. The broad range of sectors in which Sojitz operates includes those related to automobiles, plants, energy, mineral resources, chemicals, foodstuff resources, agricultural and forestry resources, consumer goods, and industrial parks. Sojitz has run so many kinds of automotive business all over the world such as CKD production, wholesale, and Retail. In the case of the business in Philippine, Sojitz has been engaged to the automotive business since 1969.