Manila, Philippines – Sojitz Fuso Philippines officially launches Class 2 and Class 3 modern PUV models. The Fuso Canter Commute (Class 2) and Fuso Canter Express (Class 3) are Fuso Philippines' answer to the PUV Modernization program of the Department of Transportation. These two new models were previewed during the company's formal inauguration last May 10, 2019.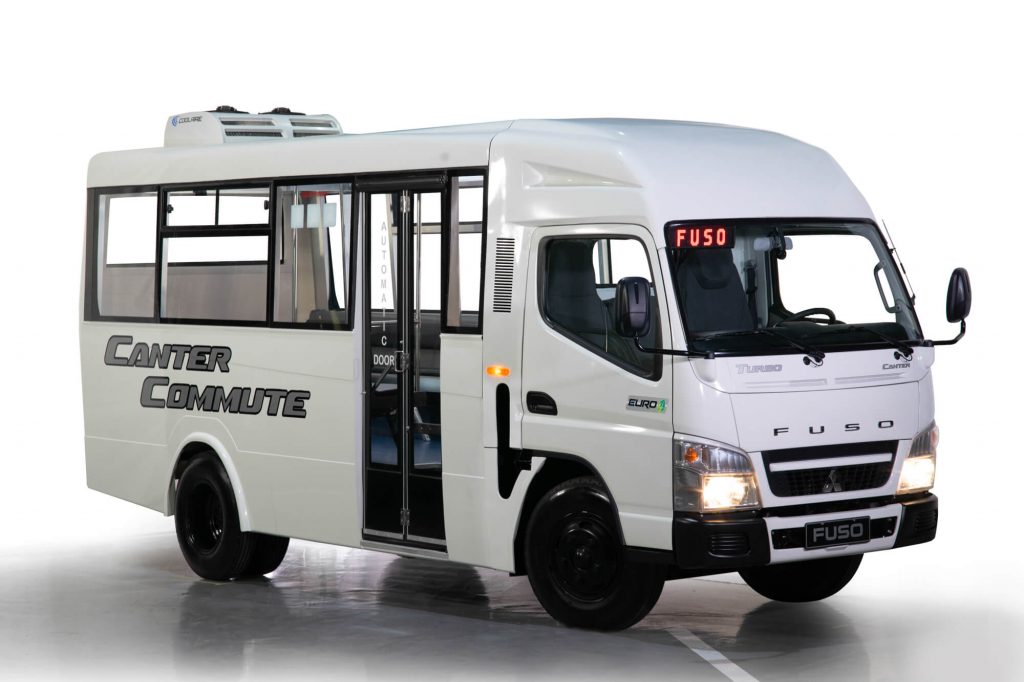 These brand new modern PUVs from Fuso Philippines are designed to be
Comfortable
Safe
Cleaner for the Environment
all in line with the effort to improve public transportation and in compliance with the Philippine National Standards (PNS 2126:2017) Public Utility Vehicles Class 2 and 3 – Dimensions.
Clean and Efficient Canter
The Fuso Canter Commute and Fuso Canter Express are both powered by a clean and fuel efficient yet powerful Euro 4-compliant 3.0L, in-line 4 cylinders, direct injection and turbocharged diesel engine (4M42-3AT2) capable of maximum 125 Ps and 294 N-m of power and torque, and with a 5-speed manual transmission.
Comfortable Canter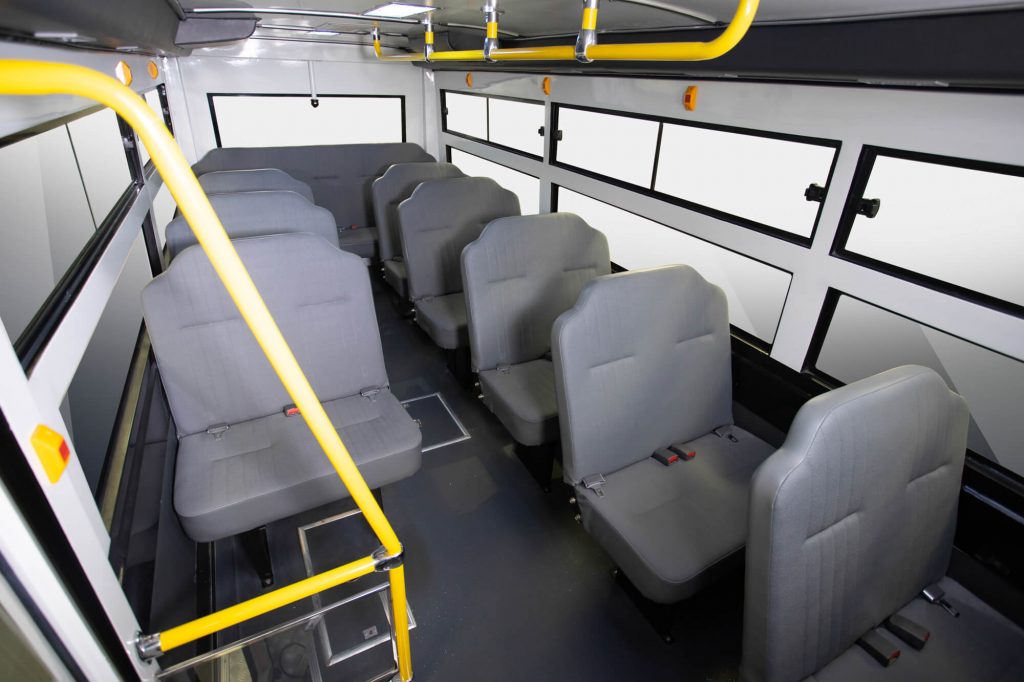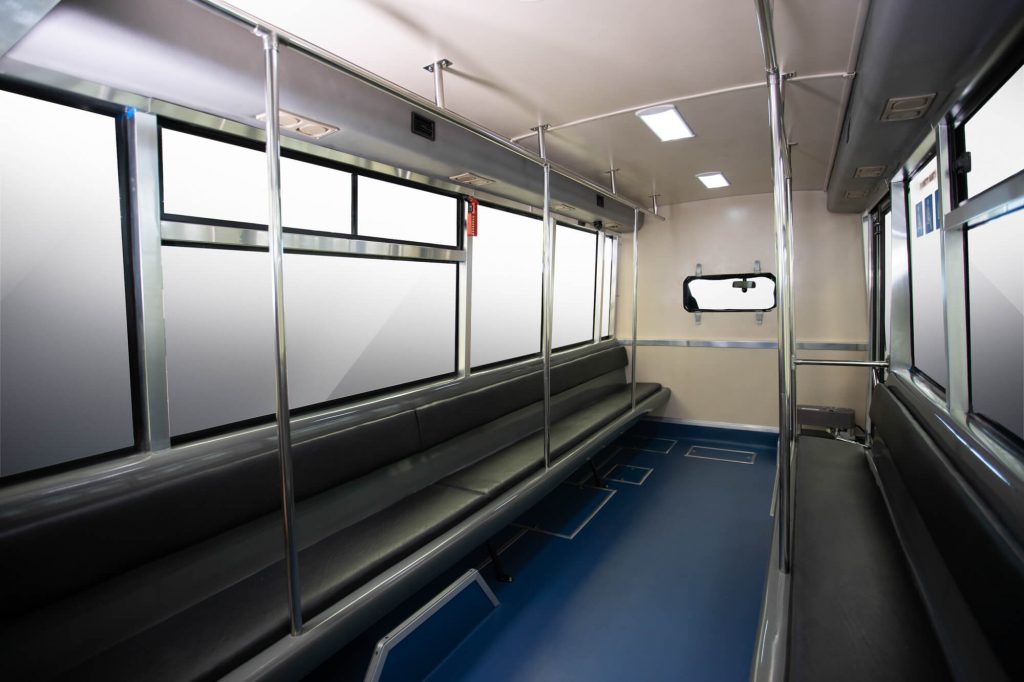 The Fuso Canter's 4-way steering wheel adjustment capability – tilt up, tilt down, push down, and pull up (tilt and telescopic adjustments) allows the driver to achieve the perfect driving position.
It is the only one in its class to offer an in-dash gear shifter for more effortless gear shifting.
Dual air-conditioning system is standard for the comfort of all passengers. The rear air-conditioning has overhead A/C vents running the whole length of the passenger cabin.
Adding to the comfort of all passengers are the front and rear double acting hydraulic and telescopic shock absorbers for a smooth ride.
You are Safe with Canter
An automatic rear passenger side door (driver-controlled one-push button to open and close) also add to the safety and convenience of all passengers.
The LED signage upfront the windshield is a more convenient way of flashing information to the commuters while also being safer for the driver by being located outside his line of sight.
4 CCTV cameras around the Fuso Canter Commute and Fuso Canter Express makes sure that the driver has visibility all around – in front (acting as dashcam), at the back (acts also as reverse camera), and the front and rear interior cabins (for added safety).
The Fuso Canter Commute fits 30 people – 2 in front plus the driver and 17 in side-facing seats (similar to traditional jeepney seats) at the back while still accommodating 10 more standing passengers.
The Fuso Canter Express on the other hand fits 25 people (including driver) who are all seated. Seats at the back are all front-facing (similar to buses) in accordance to the PNS 2126:2017.
Both the Fuso Canter Commute and Fuso Canter Express sit on the Fuso Canter FE73 model which assures its longevity and reliability. The Fuso Canter is one of the most trusted light-duty truck model in the industry. Since these 2 new PUV models from Fuso are based on the Canter model, they are cab-tilting for an easier access to the engine bay resulting to easier maintenance. Furthermore, the Fuso Canter models now have a 10,000 km Preventive Maintenance Service (PMS) interval for less downtime and more savings.
These Fuso modern PUV models, the Canter Commute and the Canter Express were designed and are assembled locally in collaboration with Fuso's accredited body-builders, Almazora Motors Corporation and Centro Manufacturing Corporation.
FUSO at a Glance
FUSO is a Daimler Truck brand, covering nearly all regions around the world. FUSO's light-duty to heavy-duty trucks (GVW 3.5 – 49 tons), vans, industrial engines, and buses are sold in more than 170 markets. The FUSO brand is based on four core brand values; Trusted Quality, Economic Efficiency, Solid & Functional Design, and Committed Services.
Sojitz Corporation
As a general trading company, the Sojitz Group is engaged in a wide range of business globally, including buying, selling, importing, and exporting goods, manufacturing and selling products, providing services, and planning and coordinating projects, in Japan and overseas. The Group also invests in various sectors and conducts financing activities. The broad range of sectors in which Sojitz operates includes those related to automobiles, plants, energy, mineral resources, chemicals, foodstuff resources, agricultural and forestry resources, consumer goods, and industrial parks. Sojitz has run so many kinds of automotive business all over the world such as CKD production, wholesale, and retail. In the case of the business in the Philippines, Sojitz has been engaged to the automotive business since 1969.