Manila, Philippines – Sojitz Fuso Philippines Corporation (SFP), the newly appointed General Distributor of Fuso trucks and bus held its inauguration on May 10, 2019 at The Filinvest Tent in Muntinlupa City.
SFP, headed by its President & CEO Takatsugu Nitanai, is a 100% owned subsidiary of Sojitz Corporation, a Japanese general trading and investment company engaged in diversified businesses around the world and with extensive experience in various automotive markets.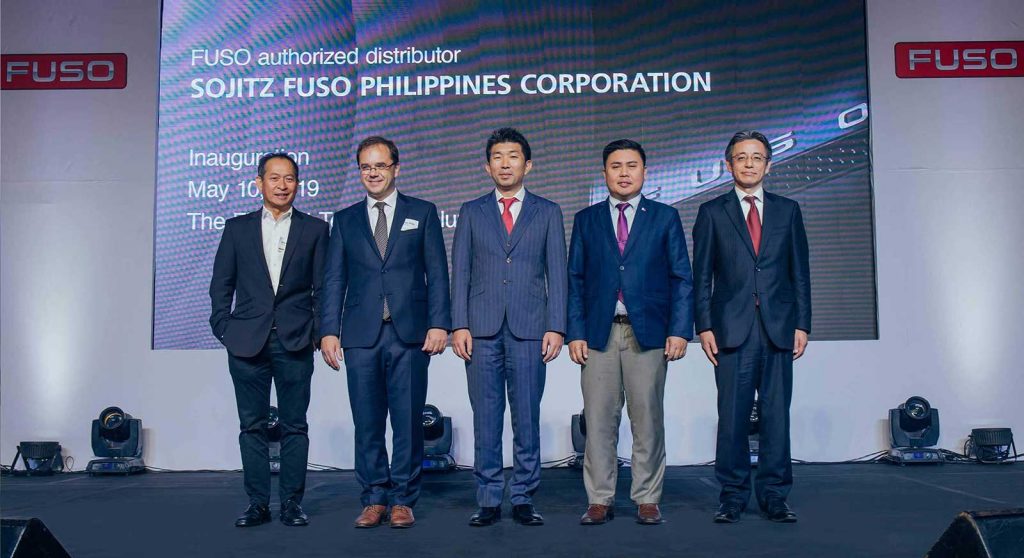 Fuso trucks and buses have been available in the Philippines since 1969. A leading Japanese commercial vehicle manufacturer across many markets, it is known primarily for its high quality. Now under the Daimler Group, it becomes an integral part of the world's biggest commercial vehicle manufacturer together with the other Daimler Truck brands; Mercedes Benz, Freightliner, Western Star, Thomas Built Buses, and BharatBenz.
Addressing the guests at the ceremony, Mr. Nitanai said, "We aspire for Fuso to be the first choice of commercial vehicle brand for businesses here in the Philippines. We will treat it as our mission to be able to provide a Fuso truck for every need of Filipino businessmen and women."
Present also at the ceremony was Mr. Thomas Hilse, CEO, Daimler Commercial Vehicles South East Asia Pte. Ltd. together with Mr. Antonio Randazzo, Vice-President of FUSO Sales & Customer Services, South East Asia.
Fuso currently offers a diverse model of trucks and bus ranging from the light-duty Canter series (4-wheeler and 6-wheelers), medium-duty Fuso FI and FJ, and heavy-duty guises of the Fuso FJ in cargo and rigid configurations. Fuso also offers the Rosa light-duty bus in three (3) different seating capacities.
Mr. Mark Medina, SFP's Vice President for Marketing and Sales, made a promise saying, "Being an exclusive distributor of the Fuso brand, SFP is passionate to grow the brand and the business. At the same time, new models will be introduced in the coming months to further serve various requirements and in parallel, the dealer network expansion will be accelerated to ensure that aftersales support is available across the country."
SFP's headquarters is located in 23rd Floor, Tower 1, Insular Life Corporate Center, Insular Life Drive, Filinvest Corporate City, Alabang 1781, Muntinlupa City.
Contact
Mr. James Magalong, (+63 2) 234 2484, [email protected]
Mr. Ray Leonardo, (+63 2) 234 2484, [email protected]
FUSO at a Glance
FUSO is a Daimler Truck brand, covering nearly all regions around the world. FUSO's light-duty to heavy-duty trucks (GVW 3.5 – 49 tons), vans, industrial engines, and buses are sold in more than 170 markets. The FUSO brand is based on four core brand values; Trusted Quality, Economic Efficiency, Solid & Functional Design, and Committed Services.
MFTBC at a Glance
Based in Kawasaki, Japan, Mitsubishi Fuso Truck and Bus Corporation (MFTBC) is one of Asia's leading commercial vehicle manufacturer. 89.29% of its shares are owned by Daimler AG and 10.71% by various Mitsubishi group companies. MFTBC is an integral part of the Daimler Trucks division of Daimler AG.
Daimler Trucks Asia at a Glance
Daimler Trucks Asia (DTA) is an organizational unit that jointly operates Mitsubishi Fuso Truck and Bus Corporation (MFTBC) – an icon of the Japanese commercial vehicle industry with more than 80 years of history – and Daimler India Commercial Vehicles (DICV), a young challenger in the Indian market. DTA has a strategic business model that allows its group entities to collaborate in product development, production, exports, sourcing, and research activity to provide the best of value products.
Sojitz Corporation
As a general trading company, the Sojitz Group is engaged in a wide range of business globally, including buying, selling, importing, and exporting goods, manufacturing and selling products, providing services, and planning and coordinating projects, in Japan and overseas. The Group also invests in various sectors and conducts financing activities. The broad range of sectors in which Sojitz operates includes those related to automobiles, plants, energy, mineral resources, chemicals, foodstuff resources, agricultural and forestry resources, consumer goods, and industrial parks. Sojitz has run so many kinds of automotive business all over the world such as CKD production, wholesale, and retail. In the case of the business in the Philippines, Sojitz has been engaged to the automotive business since 1969.