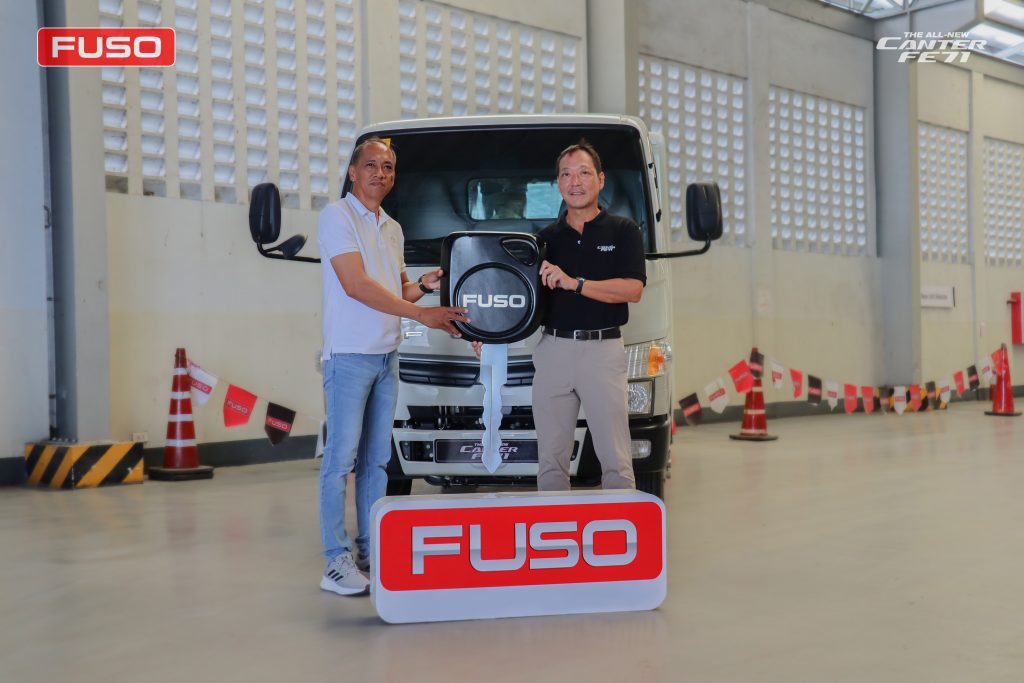 San Fernando, Pampanga – Sojitz Fuso Philippines Corporation (SFP), together with Carworld, Inc. (CWI) – FUSO Pampanga turned over the all-new Canter FE71 AMT to its first customer, RG5 Construction – a construction firm and equipment located in Sta. Maria, Bulacan for more than 15 years.
Mr. Rodrigo Aviso, owner of RG5 Construction, shared their unwavering loyalty to FUSO. "When it comes to quality, FUSO has always been our preference when it comes to our commercial vehicles. FUSO, with its origin embedded in Japanese craftmanship, is synonymous with exceptionally high quality – it symbolizes the unwavering commitment to technological innovation and excellence.
When asked why he chose the all-new Canter FE71 AMT, he stated, "It's because of durability. We purchased the all-new Canter AMT due to its remarkable longevity and impressive efficiency. We decided on this because our business primarily involves frequent long drives. We also prioritize satisfying driving experience while being exceptionally dependable on the road."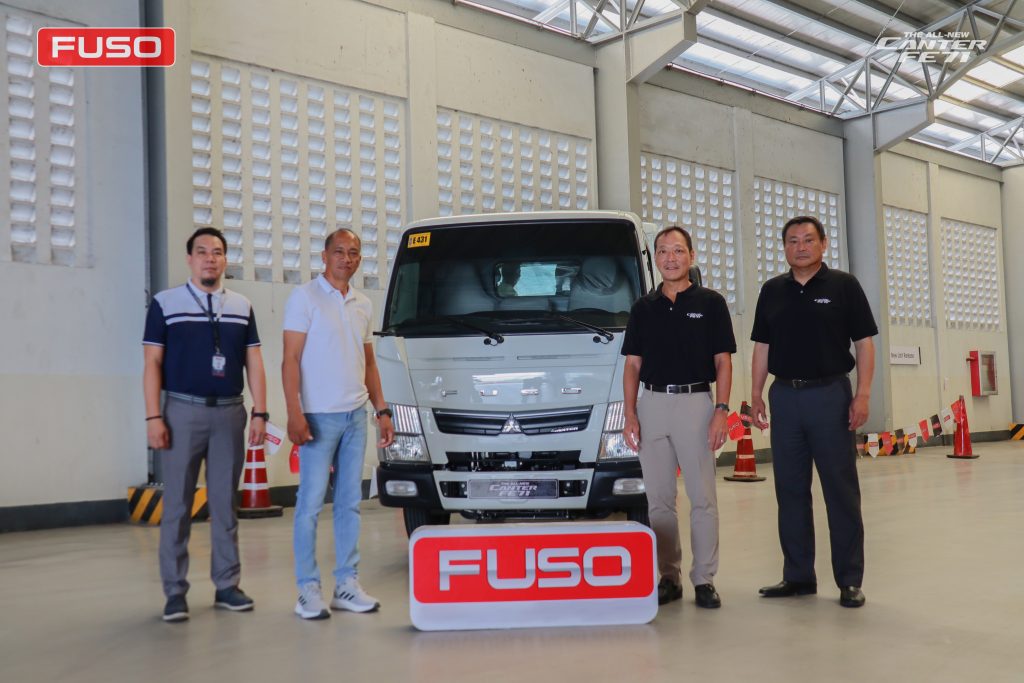 The all-new Canter FE71 is a Duonic® six-speed dual-clutch transmission designed for smoother performance, better acceleration, and fuel efficiency for a more comfortable driving experience. If required, manual shifting is also possible at any time.
Since they have had excellent past experiences with FUSO over the years, they decided to visit Carworld, Inc. – FUSO Pampanga, and they asserted, "FUSO has always been our top choice as the brand consistently delivers outstanding performance. We chose FUSO Pampanga as their reputation for quality and service made it the clear choice of our vehicle and business requirements."
"Despite our busy schedule, our sales consultant strongly recommended our presence at this significant event. Meeting Mr. Nishi and the rest of the team is an honor. As mentioned, I've always been impressed with the quality of FUSO. It's one of the main reasons I stayed loyal over the years. Just maintain the brand's quality since it's the key to ensuring customers' continued satisfaction and trust." Mr. Aviso said.
Mr. Yosuke Nishi, SFP President & CEO, highly values the partnership and commitment between FUSO Philippines and RG5 Construction to nurture a mutually beneficial relationship. "We are grateful for your trust in Carworld, Inc., Sojitz FUSO Philippines, and for acquiring the all-new Canter FE71. We are delighted to hand you the keys to your new FUSO Canter with automated manual transmission."
He added, "Please know that we value your satisfaction, and if ever you encounter any issues or after-sales concerns, please do not hesitate to contact us. We are here to ensure your continued satisfying experience with your vehicle."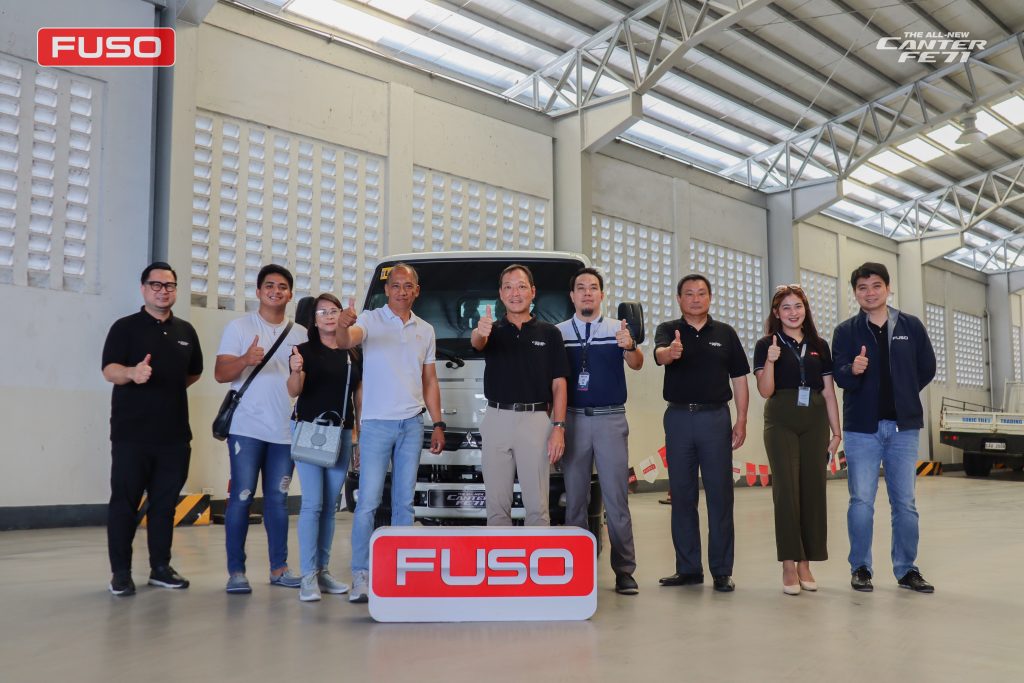 Visit www.fuso.com.ph to learn more about the all-new Canter FE71 and the rest of FUSO Philippines' product portfolio of commercial vehicles in the country.
You may also inquire through your nearest FUSO dealership or contact us by filling-out this form: www.fuso.com.ph/contact-us
*DUONIC® is a registered trademark of Daimler AG.
Contact:
Advertising, Events & Public Relations
John Ferd Cabeliza, (02) 8234 2484, [email protected]
Jomary "Joms" Ilaw, (02) 8234 2484, [email protected]
Follow us on social media:
Facebook: www.facebook.com/FusoPhilippines
YouTube: www.youtube.com/c/FUSOPhilippines
Instagram: www.instagram.com/fuso.ph
TikTok: www.tiktok.com/@fuso.ph
Viber: bit.ly/FUSOPH-Viber-Channel
Sojitz Corporation at a Glance
As a general trading company, the Sojitz Group is engaged in a wide range of businesses globally, including buying, selling, importing, and exporting goods, manufacturing and selling products, providing services, and planning and coordinating projects, in Japan and overseas. The Group also invests in various sectors and conducts financing activities. The broad range of sectors in which Sojitz operates includes those related to automobiles, plants, energy, mineral resources, chemicals, foodstuff resources, agricultural and forestry resources, consumer goods, and industrial parks. Sojitz has run so many kinds of automotive business all over the world such as CKD production, wholesale, and Retail. In the case of the business in Philippine, Sojitz has been engaged to the automotive business since 1969.
Daimler Truck Asia at a Glance
Daimler Truck Asia (DTA), under Daimler Truck AG, is an organizational unit that jointly operates Mitsubishi Fuso Truck and Bus Corporation (MFTBC) – an icon in the Japanese commercial vehicle industry with 90 years of history with its FUSO brand – and Daimler India Commercial Vehicles (DICV), an up and rising challenger in the Indian market. DTA adopts a strategic business model that allows its group entities to collaborate on product development, production, exports, sourcing and research activity to provide innovative, cutting-edge and best value products to customers. DTA's vision is "to develop mobility solutions to embrace a better life for people and the planet," and is aligned with Daimler Truck's purpose, "For all who keep the world moving."
MFTBC at a Glance
Based in Kawasaki, Japan, Mitsubishi Fuso Truck and Bus Corporation (MFTBC) is one of Asia's leading commercial vehicle manufacturers, with 89.29% of its shares owned by Daimler Truck AG and 10.71% by various Mitsubishi group companies. An icon in the Japanese commercial vehicle industry with a longstanding history of 90 years with its FUSO brand, MFTBC manufactures a range of commercial vehicles including light, medium, and heavy-duty trucks and buses, and industrial engines for over 170 markets worldwide. In 2017, MFTBC introduced the eCanter, the first all-electric light-duty truck in series-production and in 2019, the Super Great – Japan's first heavy-duty truck fitted with Level 2 Automated Driving Support Technology, a benchmark in the Japanese commercial vehicle market. MFTBC operates under the umbrella of Daimler Truck Asia, together with its partner organization Daimler India Commercial Vehicles (DICV) in India. This strategic unit allows the entities to collaborate on areas such as product development, parts sourcing and production to provide the best value to customers.
FUSO at a Glance
FUSO is a Daimler Truck brand, offering a range of commercial vehicles from light, medium, and heavy-duty trucks and buses to industrial engines and connectivity solutions for over 170 markets worldwide. A longstanding landmark in Japan's commercial vehicle landscape, the brand has leveraged Japanese quality and craftsmanship over the decades. FUSO is particularly renowned for its offerings in the light-duty segment. The Canter light-duty truck claims the top market share in various markets around the world. In 2017 the eCanter became the first series produced all-electric light-duty truck in Japan, establishing FUSO as a pioneer in eMobility. FUSO promises customers a "Future Together," a bold claim that continues to drive the brand's contributions to safe and sustainable transport. This year marks the 90th anniversary of the FUSO brand, another milestone in its continuing legacy of setting benchmarks in efficiency, safety, and comfort.