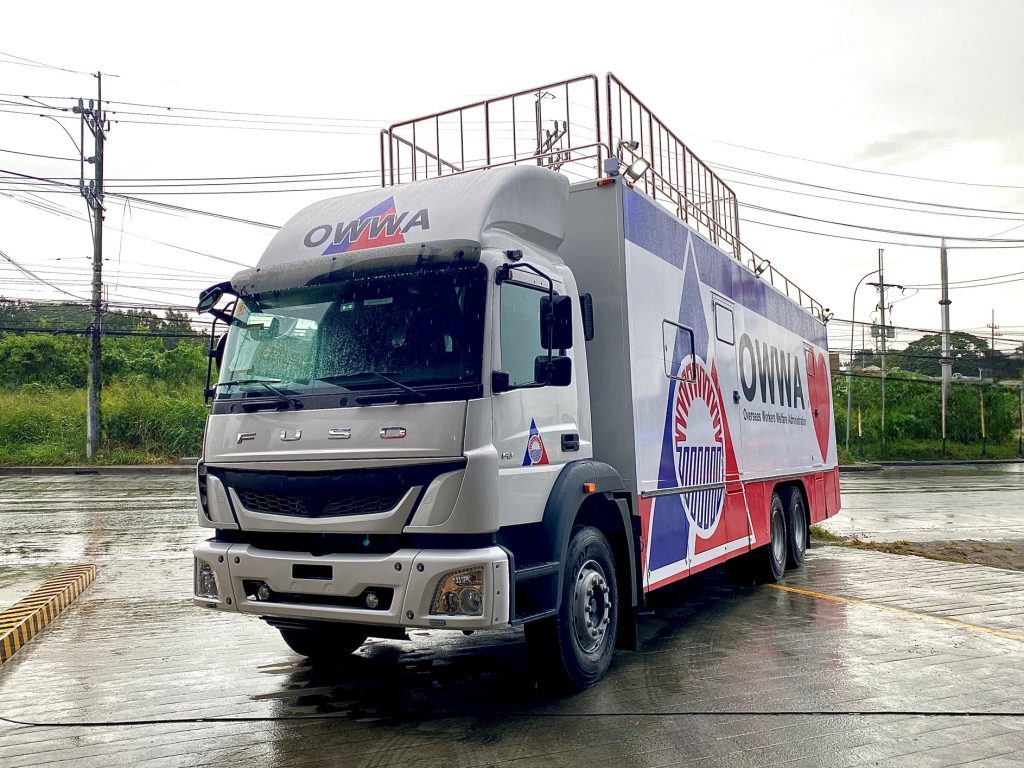 Carmona, Cavite, November 15, 2023 – In a significant step towards reinforcing the dedication and support for the welfare of overseas workers and their families, Sojitz Fuso Philippines Corporation (SFP), in association with Alpine Motors Corporation (AMC) – FUSO Carmona – recently conducted a momentous turnover ceremony. FUSO Carmona handed over three (3) FJ units to the Overseas Workers Welfare Association (OWWA), marking a new beginning in their commitment and effort to support the needs of Filipino workers.
The turnover ceremony was attended by key OWWA officials, led by Administrator Arnell Ignacio, the team from Almazora Motors Corporation, and representatives from both AMC – FUSO Carmona and Sojitz Fuso Philippines Corporation.
The FUSO FJ, renowned for its durability and performance, represents a tangible investment in providing efficient and secure transportation for OFWs and their families during calamities. Powered by a reliable engine, the FJ is designed for quicker and smoother operation, better acceleration, and fuel economy.

During the event, Admin. Arnell Ignacio expressed gratitude for the successful product turnover. The vehicles are expected to be stationed in key areas in Luzon, Visayas, and Mindanao and will be readily deployed to provide relief assistance to OFWs and their families during calamities.
"OWWA has been providing financial assistance to the families of OFWs during storms, earthquakes, and volcanic eruptions, but I felt that this is not truly responsive to the immediate needs of the OFW families. For most of them, the very first thing they would ask is, Are their families, okay? There seems to be no way for us to respond properly. But this truck will respond very well because it is equipped with Wi-Fi equipment that ensures instant communication to the internet." He said.
"Have they eaten? Can they take a bath? This truck is equipped with a bathroom and a kitchen so that we can provide free food for those who will be in the evacuation center. This truck will solve a lot of problems in a very normal, convenient, and practical way, and in our view, this truck has more heart."
"To the whole team, to everybody who participated in building and delivering the truck, to FUSO, you have not only delivered us a mere truck, but this is also a profound symbol of the kindness of our hearts towards delivering welfare services to our OFWs all over the world. This is a gigantic leap toward the new face of welfare services at OWWA and our entire team."
"It will not end here. This is not just a truck turnover; this is a turnover of your hearts to ours, and our hearts to yours."
AMC President, Mr. Francis Martin Gonzales shared his heartfelt thanks to OWWA for their dedication and invaluable support.
"As Admin Arnell mentioned, it was his dream. The dream is to have a beacon of life for the welfare of our people. It's beautiful that your dream is now a reality. The beacon of light for people who need their help will instantly see the truck coming over, saving them. Hopefully, first of many – OWWA gonna start a wave of trucks like this to help the Filipino people. Thank you to the OWWA for trusting us to build this dream."
Mr. Yosuke Nishi, SFP President & CEO, emphasized the collaboration and contribution of these vehicles that align with broader corporate social responsibility issues, aiming to impact the lives of OFWs positively.
"This collaboration embodies our commitment and efforts to empower overseas Filipino workers and ensure their safety and support. Thank you, OWWA, for your hard work and drive to this crucial endeavor. The turnover of our vehicles signifies our responsibility to provide reliable and durable products to your organization. We hope these FJ units make a substantial contribution to your organization, elevating daily operations to a new level of efficiency as well."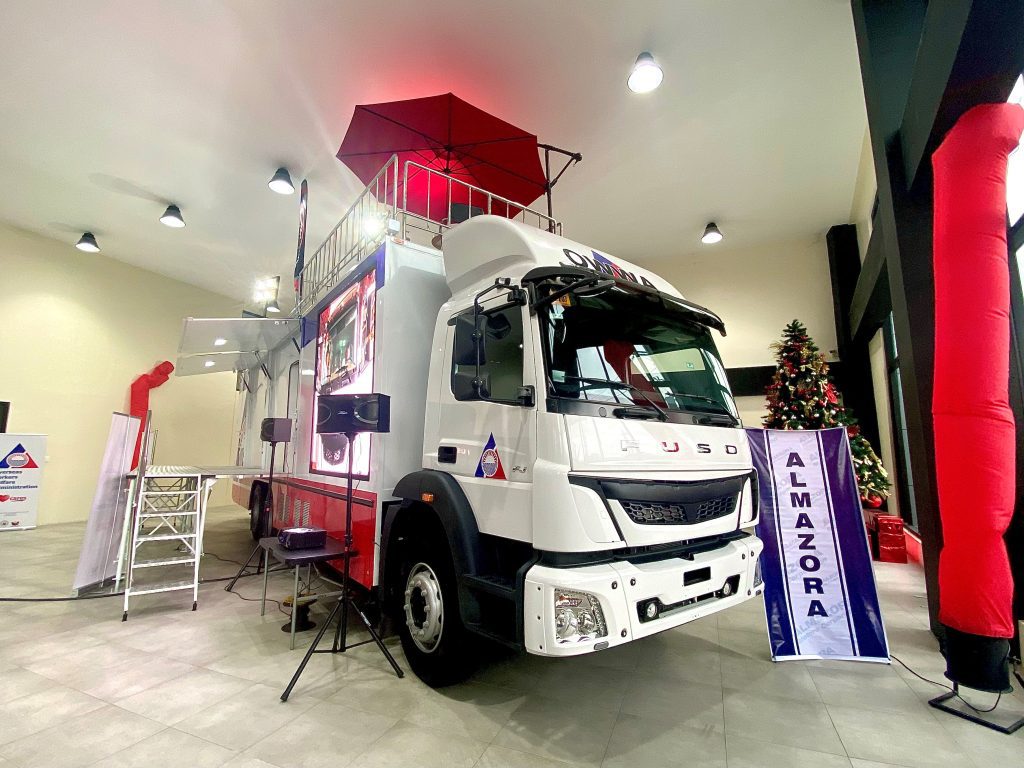 As FUSO Philippines and OWWA join forces, the turnover of these FJ units is truly a testament to the power of partnerships and commitment. It symbolizes a corporate effort toward social responsibility and underscores the collaborative spirit between the private and government sectors, fostering the health and safety of the OFWs.
Visit www.fuso.com.ph to learn more about the products, services, and latest promotions of FUSO in the Philippines.
Contact:
Advertising, Events & Public Relations
John Ferd Cabeliza, (02) 8234 2484, [email protected]
Jomary "Joms" Ilaw, (02) 8234 2484, [email protected]
Follow us on social media:
Facebook: www.facebook.com/FusoPhilippines
YouTube: www.youtube.com/c/FUSOPhilippines
Instagram: www.instagram.com/fuso.ph
TikTok: www.tiktok.com/@fuso.ph
Viber: bit.ly/FUSOPH-Viber-Channel
Sojitz Corporation at a Glance
As a general trading company, the Sojitz Group is engaged in a wide range of businesses globally, including buying, selling, importing, and exporting goods, manufacturing and selling products, providing services, and planning and coordinating projects, in Japan and overseas. The Group also invests in various sectors and conducts financing activities. The broad range of sectors in which Sojitz operates includes those related to automobiles, plants, energy, mineral resources, chemicals, foodstuff resources, agricultural and forestry resources, consumer goods, and industrial parks. Sojitz has run so many kinds of automotive business all over the world such as CKD production, wholesale, and Retail. In the case of the business in Philippine, Sojitz has been engaged to the automotive business since 1969.
Daimler Truck Asia at a Glance
Daimler Truck Asia (DTA), under Daimler Truck AG, is an organizational unit that jointly operates Mitsubishi Fuso Truck and Bus Corporation (MFTBC) – an icon in the Japanese commercial vehicle industry with 90 years of history with its FUSO brand – and Daimler India Commercial Vehicles (DICV), an up and rising challenger in the Indian market. DTA adopts a strategic business model that allows its group entities to collaborate on product development, production, exports, sourcing and research activity to provide innovative, cutting-edge and best value products to customers. DTA's vision is "to develop mobility solutions to embrace a better life for people and the planet," and is aligned with Daimler Truck's purpose, "For all who keep the world moving."
MFTBC at a Glance
Based in Kawasaki, Japan, Mitsubishi Fuso Truck and Bus Corporation (MFTBC) is one of Asia's leading commercial vehicle manufacturers, with 89.29% of its shares owned by Daimler Truck AG and 10.71% by various Mitsubishi group companies. An icon in the Japanese commercial vehicle industry with a longstanding history of 90 years with its FUSO brand, MFTBC manufactures a range of commercial vehicles including light, medium, and heavy-duty trucks and buses, and industrial engines for over 170 markets worldwide. In 2017, MFTBC introduced the eCanter, the first all-electric light-duty truck in series-production and in 2019, the Super Great – Japan's first heavy-duty truck fitted with Level 2 Automated Driving Support Technology, a benchmark in the Japanese commercial vehicle market. MFTBC operates under the umbrella of Daimler Truck Asia, together with its partner organization Daimler India Commercial Vehicles (DICV) in India. This strategic unit allows the entities to collaborate on areas such as product development, parts sourcing and production to provide the best value to customers.
FUSO at a Glance
FUSO is a Daimler Truck brand, offering a range of commercial vehicles from light, medium, and heavy-duty trucks and buses to industrial engines and connectivity solutions for over 170 markets worldwide. A longstanding landmark in Japan's commercial vehicle landscape, the brand has leveraged Japanese quality and craftsmanship over the decades. FUSO is particularly renowned for its offerings in the light-duty segment. The Canter light-duty truck claims the top market share in various markets around the world. In 2017 the eCanter became the first series produced all-electric light-duty truck in Japan, establishing FUSO as a pioneer in eMobility. FUSO promises customers a "Future Together," a bold claim that continues to drive the brand's contributions to safe and sustainable transport. This year marks the 90th anniversary of the FUSO brand, another milestone in its continuing legacy of setting benchmarks in efficiency, safety, and comfort.