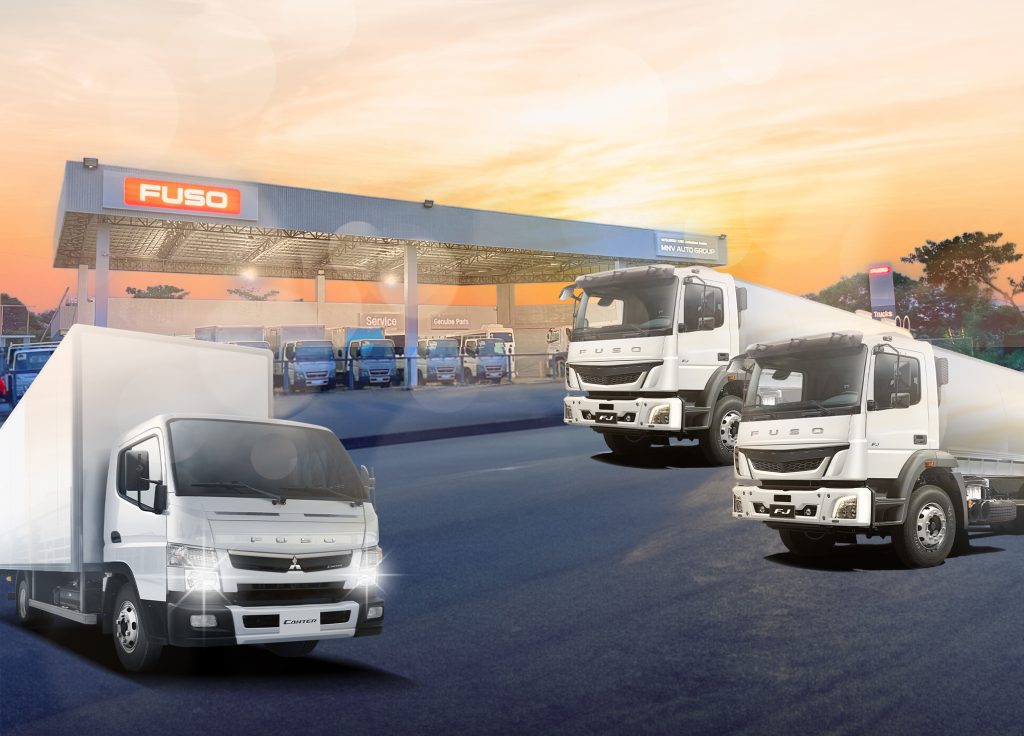 Iloilo City, July 28, 2023 – With a strong focus on product and customer experience, in association with MNV Auto Group, Inc. Sojitz Fuso Philippines Corporation (SFP) officially inaugurated a new exclusive outlet in Iloilo City – the 2nd newest addition to FUSO dedicated dealerships in the Visayas region. Situated along C1 Road, Pakiad, Oton, Iloilo City, this makes it accessible to local, commercial, and infrastructure areas.
Tagged as the Heart of the Philippines, Ilonggos are known for their charm and sweetness as they wear wide beautiful smiles and offer a warm welcome to tourists.
Aside from its vibrant culture and artistic ecosystem, Iloilo is home to historical landmarks, beaches and islands, and delicious cuisine. Iloilo is also considered a first-class city surrounded by major industries such as port facilities, infrastructure, retail trading, and FMCG as it gears toward becoming economically sustainable. SFP sees a good market in Iloilo and is positive to penetrate the increase of businesses in the region.
MNV Auto Group, Inc. was established in 2021 from Avescor Motors, Inc. to provide focus on the commercial vehicle segment. The successful inauguration of FUSO Iloilo only signifies the assurance and trust to the brand to attain and gain further customers. With the support of SFP, FUSO Iloilo will surely be instrumental in expanding and promoting the brand in the Western Visayas region and continuously growing the market of FUSO.
Mr. Marc Vincent Tiu, President of MNV Auto Group, Inc. mentioned in his speech, "Embarking on the latest collaboration with SFP, the MNV Auto Group, Inc. looks forward to extending our reach and offering the Ilonggos and other neighboring cities in Western Visayas a kind of quality experience they get from all FUSO brand vehicles. MNV Auto Group, Inc. paved the way to let our customers marvel with the top-notch service of FUSO Iloilo from the spacious showroom, top-of-the-line tools to the fully equipped service bays."
"The expanding market of FUSO Iloilo is an indicator that indeed, Western Visayas is actively "back to its business". The strong partnership with SFP proves that MNV Auto Group, Inc. and FUSO Iloilo will continue to ascend higher." He added.
The new FUSO Iloilo showcases a total floor space area of 978 sqm with well-equipped new tools, two (2) heavy-duty truck showroom displays, two (2) work bays with service pit, and a pre-delivery inspection bay to offer seamless service support to all FUSO customers located around the area and in the neighboring cities.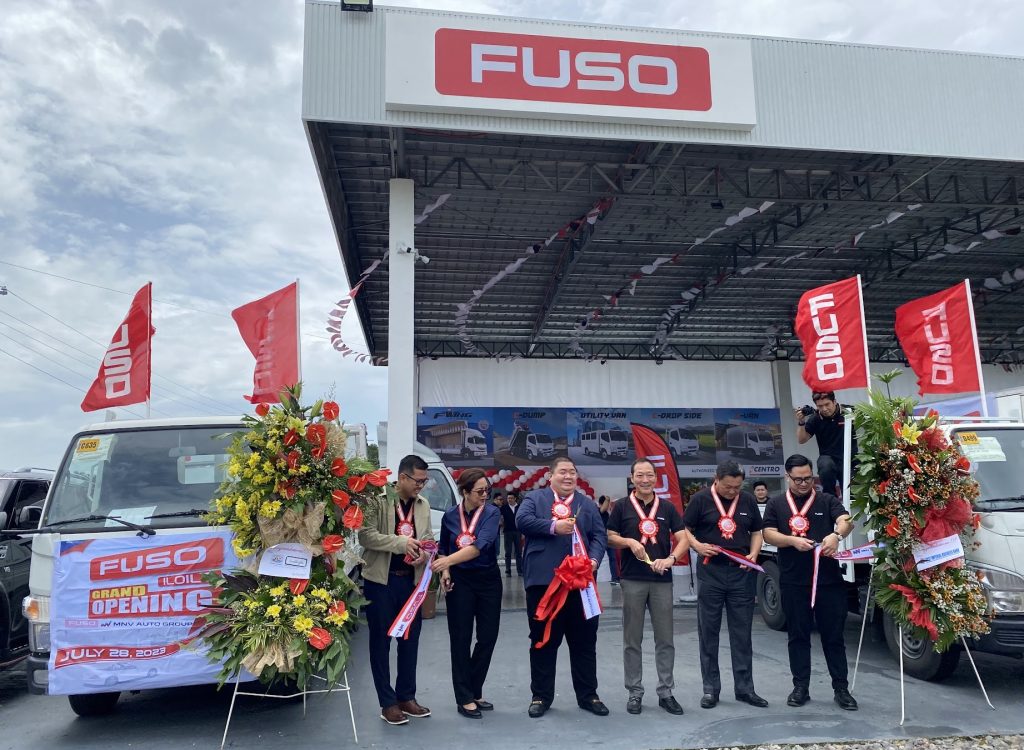 "To highlight, MNV Auto Group, Inc. – FUSO Iloilo is the first dedicated dealership we inaugurated this Fiscal Year (FY) 2023 and we believe we can penetrate more of the major industries in the city and the nearby areas. We are grateful to MNV for putting our plans into action with the success of this inauguration. As MNV continues to grow since our partnership in 2018, we are very excited to open this new dedicated dealership and enhance our customer's experience by providing high-quality service." said Mr. Yosuke Nishi, SFP President & CEO.
As SFP continuously plans to bring high-quality commercial vehicles, with the launch of the all-new Canter FE71 recently, SFP also makes sure that FUSO brand will be more and more accessible to customers while showcasing its full product portfolio of reliable and durable trucks, buses and modern PUVs.
FUSO Iloilo is owned by MNV Auto Group, Inc. with operating hours from Mondays to Saturdays, 8:00am – 5:00pm. You may visit FUSO Iloilo at C1 Road, Pakiad, Oton, Iloilo City for inquiries on FUSO commercial vehicles or reach-out through their phone number below:
Sales & Aftersales | (033) 5021413
To know more about FUSO dealerships, go to www.fuso.com.ph/dealers. You may also access our brand related links through here: www.fuso.com.ph/related-links
Contact:
Advertising, Events & Public Relations
John Ferd Cabeliza, (02) 8234 2484, [email protected]
Jomary "Joms" Ilaw, (02) 8234 2484, [email protected]
Follow us on social media:
Facebook: www.facebook.com/FusoPhilippines
Instagram: www.instagram.com/fuso.ph
YouTube: www.youtube.com/c/FUSOPhilippines
Viber: bit.ly/FUSOPH-Viber-Channel
Sojitz Corporation at a Glance
As a general trading company, the Sojitz Group is engaged in a wide range of businesses globally, including buying, selling, importing, and exporting goods, manufacturing and selling products, providing services, and planning and coordinating projects, in Japan and overseas. The Group also invests in various sectors and conducts financing activities. The broad range of sectors in which Sojitz operates includes those related to automobiles, plants, energy, mineral resources, chemicals, foodstuff resources, agricultural and forestry resources, consumer goods, and industrial parks. Sojitz has run so many kinds of automotive business all over the world such as CKD production, wholesale, and Retail. In the case of the business in Philippine, Sojitz has been engaged to the automotive business since 1969.
Daimler Truck Asia at a Glance
Daimler Truck Asia (DTA), under Daimler Truck AG, is an organizational unit that jointly operates Mitsubishi Fuso Truck and Bus Corporation (MFTBC) – an icon in the Japanese commercial vehicle industry with 90 years of history with its FUSO brand – and Daimler India Commercial Vehicles (DICV), an up and rising challenger in the Indian market. DTA adopts a strategic business model that allows its group entities to collaborate on product development, production, exports, sourcing and research activity to provide innovative, cutting-edge and best value products to customers. DTA's vision is "to develop mobility solutions to embrace a better life for people and the planet," and is aligned with Daimler Truck's purpose, "For all who keep the world moving."
MFTBC at a Glance
Based in Kawasaki, Japan, Mitsubishi Fuso Truck and Bus Corporation (MFTBC) is one of Asia's leading commercial vehicle manufacturers, with 89.29% of its shares owned by Daimler Truck AG and 10.71% by various Mitsubishi group companies. An icon in the Japanese commercial vehicle industry with a longstanding history of 90 years with its FUSO brand, MFTBC manufactures a range of commercial vehicles including light, medium, and heavy-duty trucks and buses, and industrial engines for over 170 markets worldwide. In 2017, MFTBC introduced the eCanter, the first all-electric light-duty truck in series-production and in 2019, the Super Great – Japan's first heavy-duty truck fitted with Level 2 Automated Driving Support Technology, a benchmark in the Japanese commercial vehicle market. MFTBC operates under the umbrella of Daimler Truck Asia, together with its partner organization Daimler India Commercial Vehicles (DICV) in India. This strategic unit allows the entities to collaborate on areas such as product development, parts sourcing and production to provide the best value to customers.
FUSO at a Glance
FUSO is a Daimler Truck brand, offering a range of commercial vehicles from light, medium, and heavy-duty trucks and buses to industrial engines and connectivity solutions for over 170 markets worldwide. A longstanding landmark in Japan's commercial vehicle landscape, the brand has leveraged Japanese quality and craftsmanship over the decades. FUSO is particularly renowned for its offerings in the light-duty segment. The Canter light-duty truck claims the top market share in various markets around the world. In 2017 the eCanter became the first series produced all-electric light-duty truck in Japan, establishing FUSO as a pioneer in eMobility. FUSO promises customers a "Future Together," a bold claim that continues to drive the brand's contributions to safe and sustainable transport. This year marks the 90th anniversary of the FUSO brand, another milestone in its continuing legacy of setting benchmarks in efficiency, safety, and comfort.