Manila, Philippines – Sojitz Fuso Philippines Corporation (SFP), the general distributor of FUSO trucks and buses in the Philippines, proudly offers the 6-wheeler Canter models: FE73, FE84, FE85-S, FE85-L, and FG4x4.
The FUSO Canter is widely known for its reliability on the road, whether to carry goods or transport people from one place to another. This lineup has achieved Euro-5 emission standards and comes with improved engine power and increased torque. With these changes, the vehicles have outstanding performance when it comes to any transport need. Aside from the upgraded performance, owners and drivers may also expect lower maintenance costs, better steering control and vehicle stability, improved fuel efficiency, and many other features that enhance the overall driving experience and support the drivers while on the road. On the exterior, all models have a modern cab design featuring the V-Line Concept and the horizontal character line in the front fascia emphasizing the clean look and creating a sense of forwarding motion.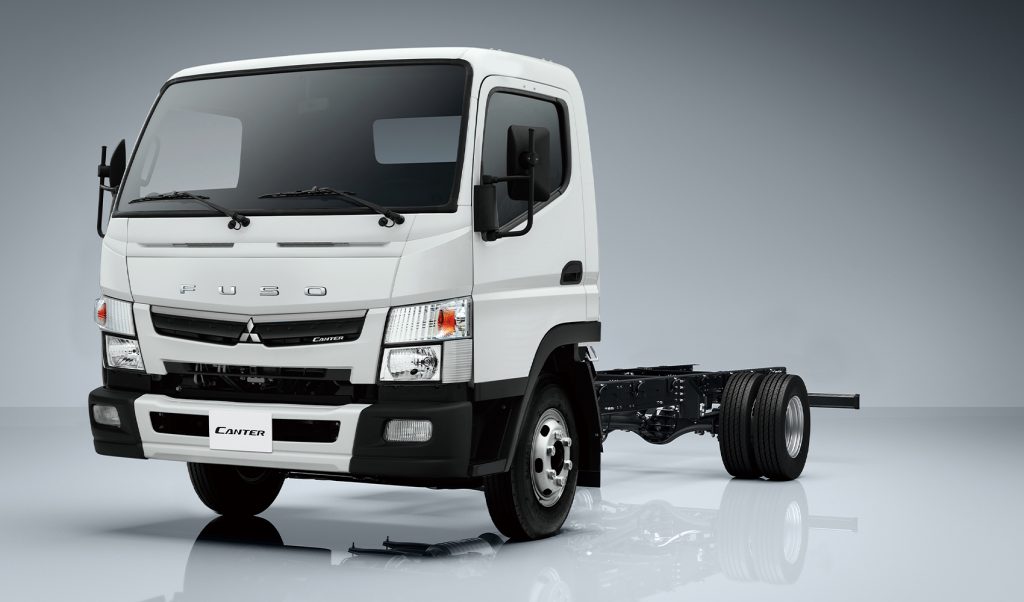 In comparison to its competitors, the all-new FUSO Canter shows off its R.I.S.E Body or the Reinforced Impact Safety Evolution that guarantees a stronger and safer cabin. It also has an in-dash gearshift level, Anti-lock Brake System (ABS), and adjustable seat belt anchor for driver's comfort.
By strengthening its product lineup with this new Canter truck, FUSO aims to provide further value to customers in the Philippines.
The All-New Canter models are now available at any FUSO authorized dealerships nationwide, visit www.fuso.com.ph/dealers
FUSO at a Glance
FUSO is a brand of commercial vehicles manufactured by Mitsubishi Fuso Truck and Bus Corporation (MFTBC) and Daimler India Commercial Vehicles (DICV). Currently, FUSO represents a holistic line-up of products and services that match the needs of customers in over 170 markets. The FUSO product positioning covers a wide spectrum, from robust and economic trucks for growth regions, to cutting-edge mobility solutions with industry-leading technology and reduced environmental impact. FUSO is particularly renowned for its offerings in the light-duty segment – the Canter light-duty truck claims the top share in various markets around the world. Throughout the decades, FUSO trucks and buses have leveraged Japanese quality and craftsmanship to set benchmarks in efficiency, safety, and comfort.
MFTBC at a Glance
Based in Kawasaki, Japan, Mitsubishi Fuso Truck and Bus Corporation (MFTBC) is one of Asia's leading commercial vehicle manufacturers, with 89.29% of its shares owned by Daimler Truck AG and 10.71% by various Mitsubishi group companies. An icon in the Japanese commercial vehicle industry with a longstanding history of more than 85 years with its FUSO brand, MFTBC manufactures a range of commercial vehicles including light, medium, and heavy-duty trucks and buses, and industrial engines for over 170 markets worldwide. In 2017, MFTBC introduced the eCanter all-electric light-duty truck as a series-production model and in 2019, the Super Great – Japan's first heavy-duty truck fitted with Level 2 Automated Driving Support Technology, a benchmark in the Japanese commercial vehicle market. MFTBC operates under the umbrella of Daimler Trucks Asia, together with its partner organization Daimler India Commercial Vehicles (DICV) in India. This strategic unit allows the entities to collaborate on areas such as product development, parts sourcing, and production to provide the best value to customers.
Daimler Trucks Asia at a Glance
Daimler Trucks Asia (DTA), under Daimler Truck AG, is an organizational unit that jointly operates Mitsubishi Fuso Truck and Bus Corporation (MFTBC) – an icon in the Japanese commercial vehicle industry with more than 85 years of history with its FUSO brand – and Daimler India Commercial Vehicles (DICV), an up and rising challenger in the Indian market. DTA adopts a strategic business model that allows its group entities to collaborate on product development, production, exports, sourcing, and research activity to provide innovative, cutting-edge, and best-value products to customers. DTA's vision is "to develop mobility solutions to embrace a better life for people and the planet," and is aligned with Daimler Truck's purpose, "For all who keep the world moving."
Sojitz Corporation
As a general trading company, the Sojitz Group is engaged in a wide range of businesses globally, including buying, selling, importing, and exporting goods, manufacturing and selling products, providing services, and planning and coordinating projects, in Japan and overseas. The Group also invests in various sectors and conducts financing activities. The broad range of sectors in which Sojitz operates includes those related to automobiles, plants, energy, mineral resources, chemicals, foodstuff resources, agricultural and forestry resources, consumer goods, and industrial parks. Sojitz has run so many kinds of automotive business all over the world such as CKD production, wholesale, and Retail. In the case of the business in the Philippines, Sojitz has been engaged in the automotive business since 1969.
Follow us on social media:
Facebook: www.facebook.com/FusoPhilippines
Instagram: www.instagram.com/fuso.ph
YouTube: www.youtube.com/c/FUSOPhilippines
Viber: bit.ly/FUSOPH-Viber-Channel
Contact:
John Ferd Cabeliza, [email protected], (02) 8234 2484
Jomary "Joms" Ilaw, [email protected], (02) 8234 2484
Website: www.fuso.com.ph
E-mail: [email protected]