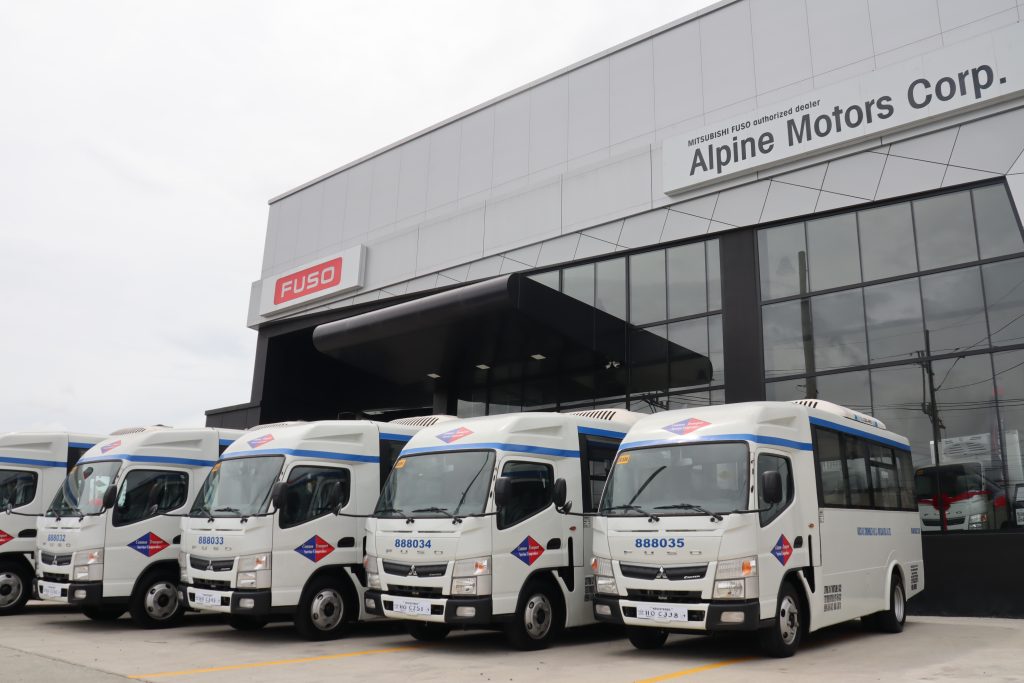 Carmona, Cavite – Sojitz Fuso Philippines Corporation (SFP) turned over five (5) Canter Commute (Class 2) units to Common Transport Service Cooperative (CTSC) on August 30, 2023 in Carmona, Cavite.
These newly purchased Canter modern PUVs are expected to deploy along Marcos Ave. Commonwealth Ave. Quezon City and Montalban Rizal via LITEX. The purchase partnership between SFP and CTSC was facilitated by Alpine Motors Corporation – FUSO Carmona.
"We're celebrating our partnership with SFP, Almazora, Coolaire and our Day 1 with Common Transport Service Cooperative. We're very happy to have CTSC as our partners. Thank you for the trust in Alpine and FUSO – we will give our hundred percent support for sales and aftersales. Congratulations to everybody. To CTSC, congratulations!" said Mr. Francis Martin Gonzales, President of Alpine Motors Corporation.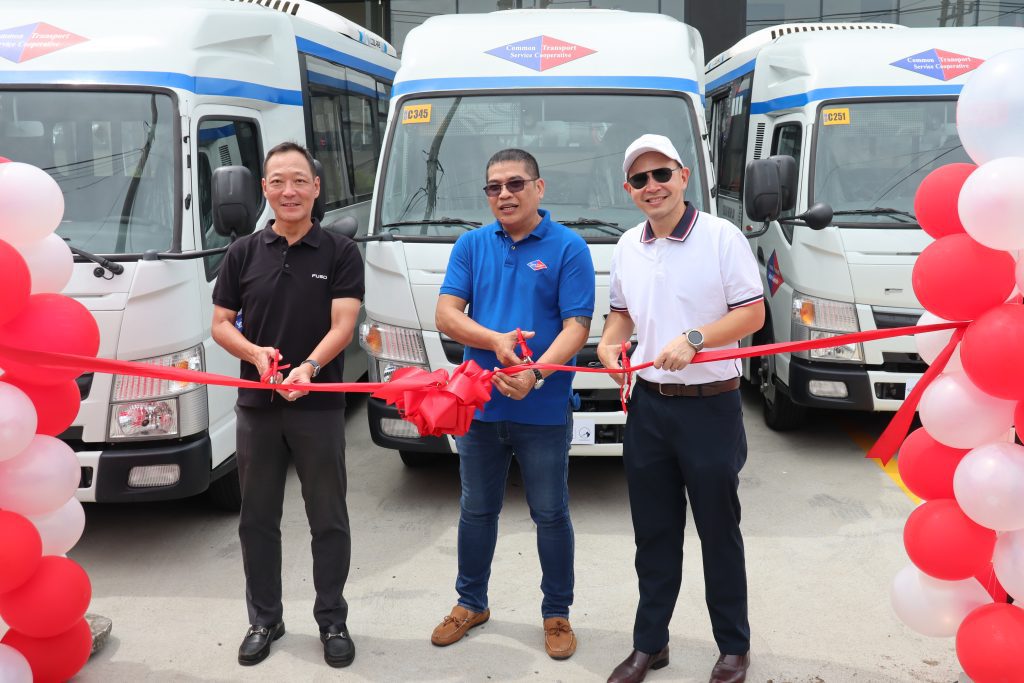 Equipped with a Euro V-compliant 3.0L diesel engine, Canter Commute delivers both better fuel economy and cleaner emissions for more sustainable transportation than traditional one. These modern PUVs have been assembled using the Canter platform and were collaboratively designed by SFP and Almazora Motors Corporation.
The Class 2 public utility vehicles can fit 20 people in side-facing seats while still accommodating 10 more standing passengers. Comfort-wise, the air-conditioning unit installed is patterned with FUSO's popular light bus model, Rosa. Air-condition vents are mounted overhead to give the interior an equal distribution of airflow.
Canter Commute (Class 2) is also compliant based on the requirements set by the Philippine National Standards (PNS 2126:2017), not only safeguarding passengers' security but also streamlining their travel experience with added convenience in fare collection.
SFP's modern PUV warranty coverage for cab and chassis is 3 years or 100,000 km, whichever comes first, and a separate warranty for body and accessories which these options are not available for old commuter mode of transportation.
"…[kami'y] buong pusong nagpapasalamat sa inyo, sa FUSO Philippines, sa Alpine Motors, sapagkat muli po binuksan ninyo ang pintuan at binigyan niyo kami ng pagkakataong makapag-hanapbuhay pa, magkaroon ng ikabubuhay namin, at maging pag-asa kami ng mga taong umaasa sa amin. Maraming maraming salamat po!" said Mr. Antonio Namatay, CTSC Chairman.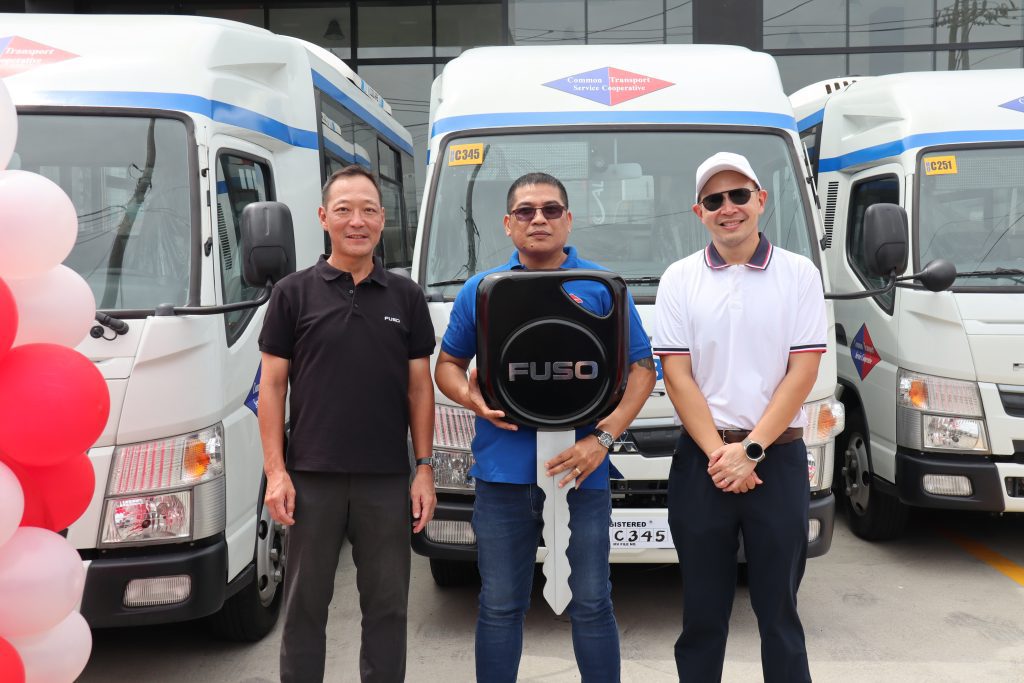 Mr. Yosuke Nishi, SFP President and CEO mentioned in his speech, "To Common Transport Service Cooperative, your commitment and efforts have brought us to this point, where we can proudly turn over our quality FUSO modern PUVs to your business. Your dedication to providing reliable and efficient transportation services to your community truly aligns with our commitment to providing high-quality products and services as well."
Moreover, SFP conducted a pre-delivery orientation and training to the operator and drivers of CTSC to ensure proper vehicle operation, share driving tips, and provide basic maintenance lecture which demonstrates SFP's committed services and continued support to the operations of its valued customers.
"Today, we hand over not just our vehicles, but the keys to a more efficient, comfortable, and sustainable transportation mobility." Mr. Nishi added.
SFP is committed to delivering durable, reliable, and high-quality products throughout the Philippines, empowering local transport cooperatives with the modern PUV requirements they need to enhance their services and provide efficient and dependable transportation solutions for the Filipino people.
Visit www.fuso.com.ph to learn more about the products, services, and latest promotions of FUSO in the Philippines.
Contact:
Advertising, Events & Public Relations
John Ferd Cabeliza, (02) 8234 2484, [email protected]
Jomary "Joms" Ilaw, (02) 8234 2484, [email protected]
Follow us on social media:
Facebook: www.facebook.com/FusoPhilippines
YouTube: www.youtube.com/c/FUSOPhilippines
Instagram: www.instagram.com/fuso.ph
TikTok: www.tiktok.com/@fuso.ph
Viber: bit.ly/FUSOPH-Viber-Channel
Sojitz Corporation at a Glance
As a general trading company, the Sojitz Group is engaged in a wide range of businesses globally, including buying, selling, importing, and exporting goods, manufacturing and selling products, providing services, and planning and coordinating projects, in Japan and overseas. The Group also invests in various sectors and conducts financing activities. The broad range of sectors in which Sojitz operates includes those related to automobiles, plants, energy, mineral resources, chemicals, foodstuff resources, agricultural and forestry resources, consumer goods, and industrial parks. Sojitz has run so many kinds of automotive business all over the world such as CKD production, wholesale, and Retail. In the case of the business in Philippine, Sojitz has been engaged to the automotive business since 1969.
Daimler Truck Asia at a Glance
Daimler Truck Asia (DTA), under Daimler Truck AG, is an organizational unit that jointly operates Mitsubishi Fuso Truck and Bus Corporation (MFTBC) – an icon in the Japanese commercial vehicle industry with 90 years of history with its FUSO brand – and Daimler India Commercial Vehicles (DICV), an up and rising challenger in the Indian market. DTA adopts a strategic business model that allows its group entities to collaborate on product development, production, exports, sourcing and research activity to provide innovative, cutting-edge and best value products to customers. DTA's vision is "to develop mobility solutions to embrace a better life for people and the planet," and is aligned with Daimler Truck's purpose, "For all who keep the world moving."
MFTBC at a Glance
Based in Kawasaki, Japan, Mitsubishi Fuso Truck and Bus Corporation (MFTBC) is one of Asia's leading commercial vehicle manufacturers, with 89.29% of its shares owned by Daimler Truck AG and 10.71% by various Mitsubishi group companies. An icon in the Japanese commercial vehicle industry with a longstanding history of 90 years with its FUSO brand, MFTBC manufactures a range of commercial vehicles including light, medium, and heavy-duty trucks and buses, and industrial engines for over 170 markets worldwide. In 2017, MFTBC introduced the eCanter, the first all-electric light-duty truck in series-production and in 2019, the Super Great – Japan's first heavy-duty truck fitted with Level 2 Automated Driving Support Technology, a benchmark in the Japanese commercial vehicle market. MFTBC operates under the umbrella of Daimler Truck Asia, together with its partner organization Daimler India Commercial Vehicles (DICV) in India. This strategic unit allows the entities to collaborate on areas such as product development, parts sourcing and production to provide the best value to customers.
FUSO at a Glance
FUSO is a Daimler Truck brand, offering a range of commercial vehicles from light, medium, and heavy-duty trucks and buses to industrial engines and connectivity solutions for over 170 markets worldwide. A longstanding landmark in Japan's commercial vehicle landscape, the brand has leveraged Japanese quality and craftsmanship over the decades. FUSO is particularly renowned for its offerings in the light-duty segment. The Canter light-duty truck claims the top market share in various markets around the world. In 2017 the eCanter became the first series produced all-electric light-duty truck in Japan, establishing FUSO as a pioneer in eMobility. FUSO promises customers a "Future Together," a bold claim that continues to drive the brand's contributions to safe and sustainable transport. This year marks the 90th anniversary of the FUSO brand, another milestone in its continuing legacy of setting benchmarks in efficiency, safety, and comfort.