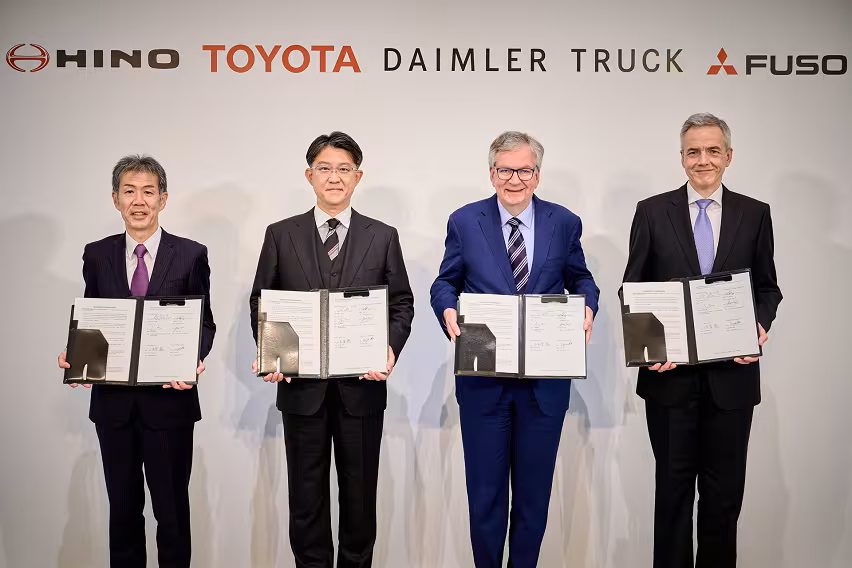 Tokyo, Japan / Leinfelden, Germany – In a recent joint press conference, Mitsubishi Fuso Truck and Bus Corporation (MFTBC), Daimler Truck Holding AG (Daimler Truck), Hino Motors Ltd. (Hino), and Toyota Motor Corporation (Toyota) concluded a Memorandum of Understanding (MoU) that aims to accelerate the progress and development of advanced technologies and merging of MFTBC and Hino.
All four brands collaborated to achieve carbon neutrality and create a prosperous mobility, focus on developing CASE technologies (Connected / Autonomous & Automated / Shared / Electric) and globally strengthening commercial vehicle business further.
MFTBC and Hino will collaborate in commercial vehicle development, procurement, and production, while Daimler Truck and Toyota will also collaborate on the development of hydrogen and other CASE technologies to support the competitiveness of the new company.
The brands plan to sign a definitive agreement in the first quarter of 2024 and aim to close the transaction by the end of the same year. Details of the scope and nature of the collaboration, including the name, location, shareholding ratio, and corporate structure of the new holding company, will be decided within the next 18 months.
Karl Deppen, CEO of MFTBC: "This close collaboration will enable us to accelerate the decarbonization of the transportation industry, creating an even stronger Japanese commercial vehicle manufacturer. Under the two well-established brands of FUSO and Hino, we will continue to take a leading role in serving customer needs in Japan, Asia and beyond."
Martin Daum, CEO of Daimler Truck: "We at Daimler Truck are very proud of our products, because trucks and buses keep the world moving. And soon they will even do so with zero emissions. So there is a great future ahead – and today's announcement is a crucial step in making that future work economically and in leading sustainable transportation. The planned new company will be a major force in Southeast Asia and an important associate of the Daimler Truck family."
Satoshi Ogiso, CEO of Hino: "We will unite our aspirations to 'support mobility and contribute to society' and, hand in hand, accelerate advanced technology development in order to overcome the increasingly fierce global competition. Through these efforts, we will strive to tackle societal challenges such as achieving carbon neutrality."
Koji Sato, CEO of Toyota Motor Corporation: "This collaboration among our four companies is a partnership for creating the future of commercial vehicles in Japan and the future of mobility society. Our four companies will work together with a shared vision of achieving carbon neutrality by strengthening CASE technologies and of changing the future of commercial vehicles and building the future together by solving social issues."
The collaboration shared a common commitment of contributing to a prosperous mobility society. By doing that, these four companies to work together to maximize and promote more environmentally friendly vehicles and increase the value of mobility within global social systems.
The partnership between the biggest commercial vehicle manufacturers aim to foster this collaboration by combining each expertise, resources, and commitment and provide connected, eco-friendly, and sustainable mobility and further strengthen the future of commercial vehicle industry.
Reference: https://bit.ly/42piKwa
To learn more about the FUSO brand, you may visit www.fuso.com.ph
Follow us on social media:
Facebook: www.facebook.com/FusoPhilippines
Instagram: www.instagram.com/fuso.ph
YouTube: www.youtube.com/c/FUSOPhilippines
Viber: bit.ly/FUSOPH-Viber-Channel
Sojitz Corporation at a Glance
As a general trading company, the Sojitz Group is engaged in a wide range of businesses globally, including buying, selling, importing, and exporting goods, manufacturing and selling products, providing services, and planning and coordinating projects, in Japan and overseas. The Group also invests in various sectors and conducts financing activities. The broad range of sectors in which Sojitz operates includes those related to automobiles, plants, energy, mineral resources, chemicals, foodstuff resources, agricultural and forestry resources, consumer goods, and industrial parks. Sojitz has run so many kinds of automotive business all over the world such as CKD production, wholesale, and Retail. In the case of the business in Philippine, Sojitz has been engaged to the automotive business since 1969.
Daimler Truck Asia at a Glance
Daimler Truck Asia (DTA), under Daimler Truck AG, is an organizational unit that jointly operates Mitsubishi Fuso Truck and Bus Corporation (MFTBC) – an icon in the Japanese commercial vehicle industry with 90 years of history with its FUSO brand – and Daimler India Commercial Vehicles (DICV), an up and rising challenger in the Indian market. DTA adopts a strategic business model that allows its group entities to collaborate on product development, production, exports, sourcing and research activity to provide innovative, cutting-edge and best value products to customers. DTA's vision is "to develop mobility solutions to embrace a better life for people and the planet," and is aligned with Daimler Truck's purpose, "For all who keep the world moving."
MFTBC at a Glance
Based in Kawasaki, Japan, Mitsubishi Fuso Truck and Bus Corporation (MFTBC) is one of Asia's leading commercial vehicle manufacturers, with 89.29% of its shares owned by Daimler Truck AG and 10.71% by various Mitsubishi group companies. An icon in the Japanese commercial vehicle industry with a longstanding history of 90 years with its FUSO brand, MFTBC manufactures a range of commercial vehicles including light, medium, and heavy-duty trucks and buses, and industrial engines for over 170 markets worldwide. In 2017, MFTBC introduced the eCanter, the first all-electric light-duty truck in series-production and in 2019, the Super Great – Japan's first heavy-duty truck fitted with Level 2 Automated Driving Support Technology, a benchmark in the Japanese commercial vehicle market. MFTBC operates under the umbrella of Daimler Truck Asia, together with its partner organization Daimler India Commercial Vehicles (DICV) in India. This strategic unit allows the entities to collaborate on areas such as product development, parts sourcing and production to provide the best value to customers.
FUSO at a Glance
FUSO is a Daimler Truck brand, offering a range of commercial vehicles from light, medium, and heavy-duty trucks and buses to industrial engines and connectivity solutions for over 170 markets worldwide. A longstanding landmark in Japan's commercial vehicle landscape, the brand has leveraged Japanese quality and craftsmanship over the decades. FUSO is particularly renowned for its offerings in the light-duty segment. The Canter light-duty truck claims the top market share in various markets around the world. In 2017 the eCanter became the first series produced all-electric light-duty truck in Japan, establishing FUSO as a pioneer in eMobility. FUSO promises customers a "Future Together," a bold claim that continues to drive the brand's contributions to safe and sustainable transport. This year marks the 90th anniversary of the FUSO brand, another milestone in its continuing legacy of setting benchmarks in efficiency, safety, and comfort.