Manila, Philippines – In early 2020, the global pandemic began, and strict protocols had been implemented nationwide – which caused the automotive industry including trucking and logistics to temporarily shut down services as the challenges became difficult.
As the situation slowly normalize, the pandemic has brought huge changes in consumer behavior – causing e-commerce to expand in many ways toward new customers, new brands and businesses. To handle the situation, B2C industry changed their way to maximize digitalization including personalized customer experience.
FUSO Fleet Intelligence
To ensure your fleet is at maximum logistics efficiency and productivity, Fleet Intelligence enables an efficient process from trigger to resolution that is automated to your fleet operations. The design of this fleet management system provides real-time updates on your vehicle location and monitors driver behavior. You can also optimize your route by planning from historical route patterns, road traffic data, and fuel consumption trips. Aside from these workflows, it can also improve fleet security by keeping your vehicle to avoid cargo or fuel theft.
Figure 1. How can Fleet Intelligence help optimize your fleet operations?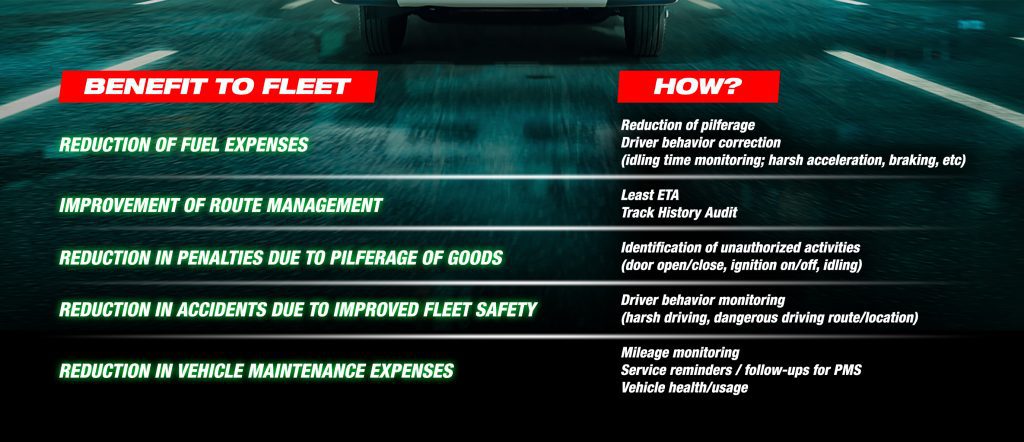 Currently, existing FUSO customers are experiencing challenges with monitoring and managing assets of its fleet operations – common occurrences include cargo and fuel theft which can be reduced through this system. Operating costs, on the other hand, can also fluctuate depending on the variety of factors including fuel and vehicle maintenance. Thus, Fleet Intelligence helps you to identify variable costs and control how to reduce them.
With Fleet Intelligence, the main objective is to oversee and manage all fleet operations and increased profitability – by maximizing the business revenue and minimizing the overhead costs. Through web or mobile connectivity, you can track the entire fleet performance expediting fleet data and improving operational efficiency.
An initiative of Sojitz Fuso Philippines Corporation, the Fleet Intelligence will be available on the Canter FE71 through a promo from February 20 to March 31, 2023. From this period, customers will also receive a FREE 1-year subscription plan for full access to the application. To learn more, inquire now at your preferred FUSO dealership near you or fill-out www.fuso.com.ph/contact-us and our sales team will be glad to assist you.
Contact:
Advertising, Events & Public Relations
John Ferd Cabeliza, (02) 8234 2484, [email protected]
Jomary "Joms" Ilaw, (02) 8234 2484, [email protected]
Follow us on social media:
Facebook: www.facebook.com/FusoPhilippines
Instagram: www.instagram.com/fuso.ph
YouTube: www.youtube.com/c/FUSOPhilippines
Viber: bit.ly/FUSOPH-Viber-Channel
Sojitz Corporation at a Glance
As a general trading company, the Sojitz Group is engaged in a wide range of businesses globally, including buying, selling, importing, and exporting goods, manufacturing and selling products, providing services, and planning and coordinating projects, in Japan and overseas. The Group also invests in various sectors and conducts financing activities. The broad range of sectors in which Sojitz operates includes those related to automobiles, plants, energy, mineral resources, chemicals, foodstuff resources, agricultural and forestry resources, consumer goods, and industrial parks. Sojitz has run so many kinds of automotive business all over the world such as CKD production, wholesale, and Retail. In the case of the business in Philippine, Sojitz has been engaged to the automotive business since 1969.
Daimler Truck Asia at a Glance
Daimler Truck Asia (DTA), under Daimler Truck AG, is an organizational unit that jointly operates Mitsubishi Fuso Truck and Bus Corporation (MFTBC) – an icon in the Japanese commercial vehicle industry with 90 years of history with its FUSO brand – and Daimler India Commercial Vehicles (DICV), an up and rising challenger in the Indian market. DTA adopts a strategic business model that allows its group entities to collaborate on product development, production, exports, sourcing and research activity to provide innovative, cutting-edge and best value products to customers. DTA's vision is "to develop mobility solutions to embrace a better life for people and the planet," and is aligned with Daimler Truck's purpose, "For all who keep the world moving."
MFTBC at a Glance
Based in Kawasaki, Japan, Mitsubishi Fuso Truck and Bus Corporation (MFTBC) is one of Asia's leading commercial vehicle manufacturers, with 89.29% of its shares owned by Daimler Truck AG and 10.71% by various Mitsubishi group companies. An icon in the Japanese commercial vehicle industry with a longstanding history of 90 years with its FUSO brand, MFTBC manufactures a range of commercial vehicles including light, medium, and heavy-duty trucks and buses, and industrial engines for over 170 markets worldwide. In 2017, MFTBC introduced the eCanter, the first all-electric light-duty truck in series-production and in 2019, the Super Great – Japan's first heavy-duty truck fitted with Level 2 Automated Driving Support Technology, a benchmark in the Japanese commercial vehicle market. MFTBC operates under the umbrella of Daimler Truck Asia, together with its partner organization Daimler India Commercial Vehicles (DICV) in India. This strategic unit allows the entities to collaborate on areas such as product development, parts sourcing and production to provide the best value to customers.
FUSO at a Glance
FUSO is a Daimler Truck brand, offering a range of commercial vehicles from light, medium, and heavy-duty trucks and buses to industrial engines and connectivity solutions for over 170 markets worldwide. A longstanding landmark in Japan's commercial vehicle landscape, the brand has leveraged Japanese quality and craftsmanship over the decades. FUSO is particularly renowned for its offerings in the light-duty segment. The Canter light-duty truck claims the top market share in various markets around the world. In 2017 the eCanter became the first series produced all-electric light-duty truck in Japan, establishing FUSO as a pioneer in eMobility. FUSO promises customers a "Future Together," a bold claim that continues to drive the brand's contributions to safe and sustainable transport. This year marks the 90th anniversary of the FUSO brand, another milestone in its continuing legacy of setting benchmarks in efficiency, safety, and comfort.