Bataan, Philippines — The Canter Express Modern PUV (Class 3) achieved an impressive fuel consumption figure of 8.8km per liter over nearly 152.7 kilometers (which customers may save up to Php 6.3 per kilometer compared to traditional PUVs [Jeepney] with 5.2km/l average fuel consumption) while simulating the actual PUV operating environment such as passenger load and road conditions during the FUSO Fuel Eco-Run Challenge. Based on the survey among modern PUV drivers, 6 to 7km per liter is their benchmark for fuel efficiency.
The FUSO Modern PUV was driven from San Fernando, Pampanga to Las Casas Filipinas de Acuzar, Bataan, and all the way back within a single day. It was observed and certified by Automobile Association Philippines (AAP) and covered by its media partner, Autoindustriya.
Observer's Result: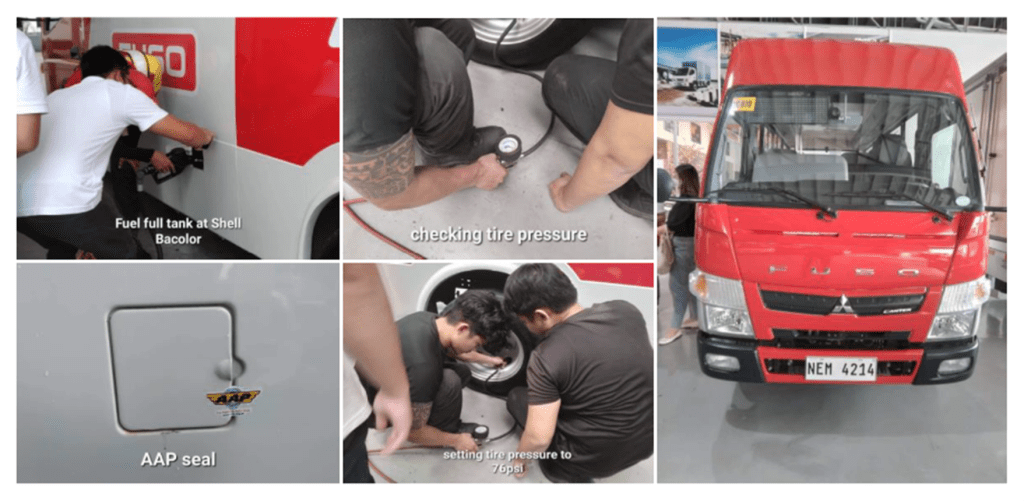 9:30 AM Refuelling, Check tire pressure and sealing the Vehicle – Pump 6
2022 FUSO Canter Modern PUV 3.0L M/T, Red, Plate No. NEM – 4214
Note: Tire Pressure base on Specification 76psi Both Front & Rear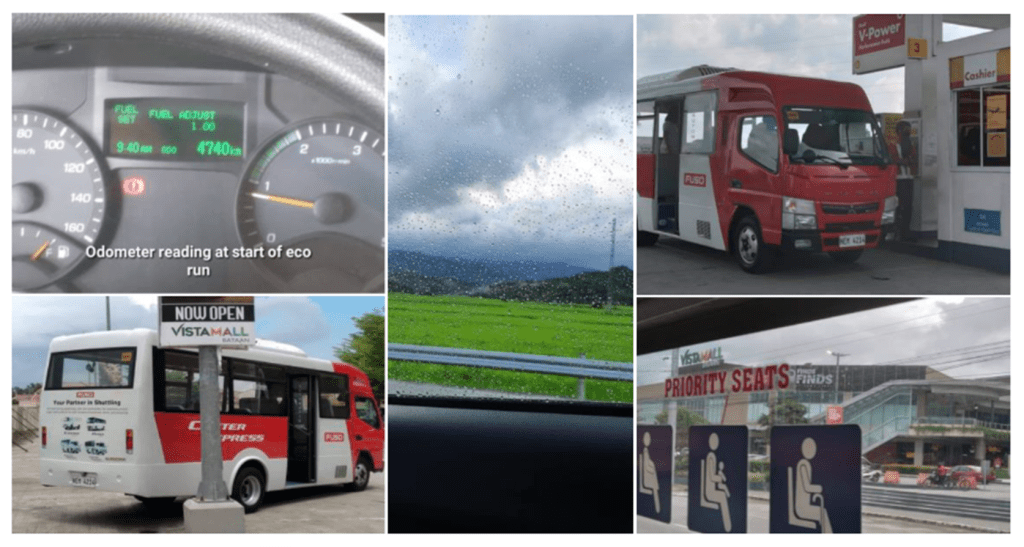 Highway Test Condition
9:53 AM Trip Start from Shell Bacolor, Pampanga to Las Casas Bagac, Bataan
Target Speed is at 60-80kph.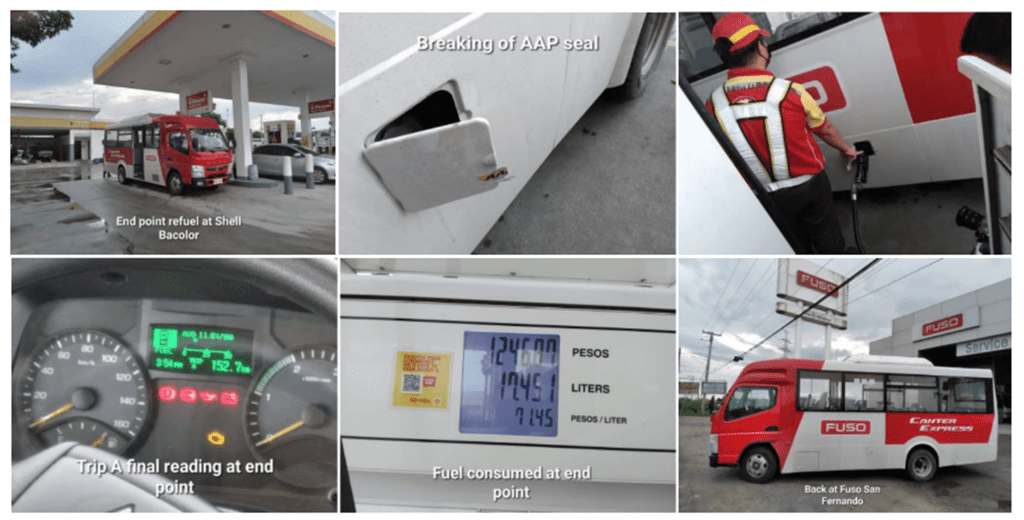 3:41 PM END and Arrived at Shell Bacolor, Pampanga
2022 FUSO Canter Modern PUV 3.0L M/T, Red, Plate No. NEM – 4214

GPS Reading of 150.0 kms official distance travelled
Odometer reading of 152.7 will be used for official distance travelled
RESULTS: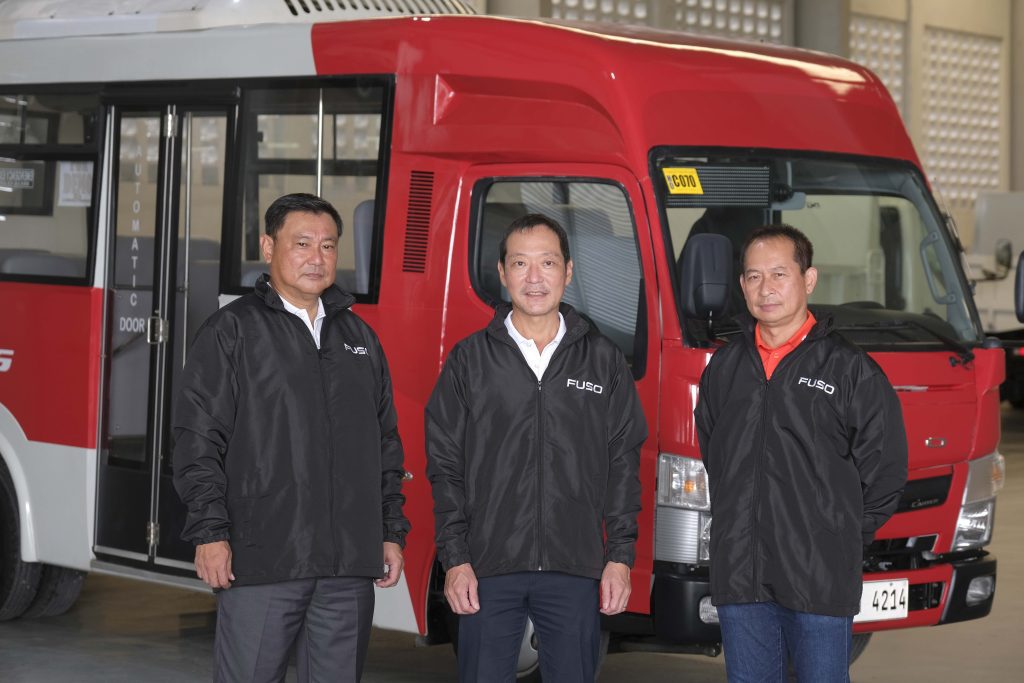 The objective of the FUSO Fuel Eco-Run Challenge is to promote and advocate the fuel efficiency of FUSO commercial vehicles among existing owners and prospective buyers — to highlight fuel mileage, driving comfort and the vehicle's powerful performance.
"Moving forward, today's activity is for us to testify the fuel efficiency of our product. Results will be included as part of the unique selling point and advantage of FUSO vehicles. We assure you that FUSO is ready to provide the best quality and hassle-free transportation to Filipinos across the country." said Mr. Yosuke Nishi, the President and CEO of SFP.
Mr. Noriyuki Sekita, EVP for Sales and Marketing mentioned in his message, "The goal of this activity is to demonstrate the Unique Selling Point (USP) of our PUVs, which is fuel efficiency and vehicle performance. Our initiative is to showcase the efficiency of our vehicles under normal driving conditions for the benefit of operators and drivers."
With the outstanding result, SFP is confident that the brand's modern PUVs will continue to increase its market share across the country.
To know more about the FUSO product portfolio, visit www.fuso.com.ph
Follow us on social media:
Facebook: www.facebook.com/FusoPhilippines
Instagram: www.instagram.com/fuso.ph
YouTube: www.youtube.com/c/FUSOPhilippines
Viber: bit.ly/FUSOPH-Viber-Channel
Contact:
Advertising, Events & Public Relation Specialists, SFP
John Ferd Cabeliza, Phone: (02) 8234 2484 e-Mail: [email protected]
Jomary "Joms" Ilaw, Phone: (02) 8234 2484 e-Mail: [email protected]

Website: www.fuso.com.ph
E-mail: [email protected]
FUSO at a Glance
FUSO is a brand of commercial vehicles manufactured by Mitsubishi Fuso Truck and Bus Corporation (MFTBC) and Daimler India Commercial Vehicles (DICV). Currently, FUSO represents a holistic line-up of products and services that match the needs of customers in over 170 markets. The FUSO product positioning covers a wide spectrum, from robust and economic trucks for growth regions, to cutting-edge mobility solutions with industry-leading technology and reduced environmental impact. FUSO is particularly renowned for its offerings in the light-duty segment – the Canter light-duty truck claims the top share in various markets around the world. Throughout the decades, FUSO trucks and buses have leveraged Japanese quality and craftsmanship to set benchmarks in efficiency, safety, and comfort.
MFTBC at a Glance
Based in Kawasaki, Japan, Mitsubishi Fuso Truck and Bus Corporation (MFTBC) is one of Asia's leading commercial vehicle manufacturers, with 89.29% of its shares owned by Daimler Truck AG and 10.71% by various Mitsubishi group companies. An icon in the Japanese commercial vehicle industry with a longstanding history of more than 85 years with its FUSO brand, MFTBC manufactures a range of commercial vehicles including light, medium, and heavy-duty trucks and buses, and industrial engines for over 170 markets worldwide. In 2017, MFTBC introduced the eCanter all-electric light-duty truck as a series-production model and in 2019, the Super Great – Japan's first heavy-duty truck fitted with Level 2 Automated Driving Support Technology, a benchmark in the Japanese commercial vehicle market. MFTBC operates under the umbrella of Daimler Trucks Asia, together with its partner organization Daimler India Commercial Vehicles (DICV) in India. This strategic unit allows the entities to collaborate on areas such as product development, parts sourcing and production to provide the best value to customers.
Daimler Trucks Asia at a Glance
Daimler Trucks Asia (DTA), under Daimler Truck AG, is an organizational unit that jointly operates Mitsubishi Fuso Truck and Bus Corporation (MFTBC) – an icon in the Japanese commercial vehicle industry with more than 85 years of history with its FUSO brand – and Daimler India Commercial Vehicles (DICV), an up and rising challenger in the Indian market. DTA adopts a strategic business model that allows its group entities to collaborate on product development, production, exports, sourcing and research activity to provide innovative, cutting-edge and best-value products to customers. DTA's vision is "to develop mobility solutions to embrace a better life for people and the planet," and is aligned with Daimler Truck's purpose, "For all who keep the world moving."
Sojitz Corporation
As a general trading company, the Sojitz Group is engaged in a wide range of businesses globally, including buying, selling, importing, and exporting goods, manufacturing and selling products, providing services, and planning and coordinating projects, in Japan and overseas. The Group also invests in various sectors and conducts financing activities. The broad range of sectors in which Sojitz operates includes those related to automobiles, plants, energy, mineral resources, chemicals, foodstuff resources, agricultural and forestry resources, consumer goods, and industrial parks. Sojitz has run so many kinds of automotive business all over the world such as CKD production, wholesale, and Retail. In the case of the business in Philippine, Sojitz has been engaged to the automotive business since 1969.