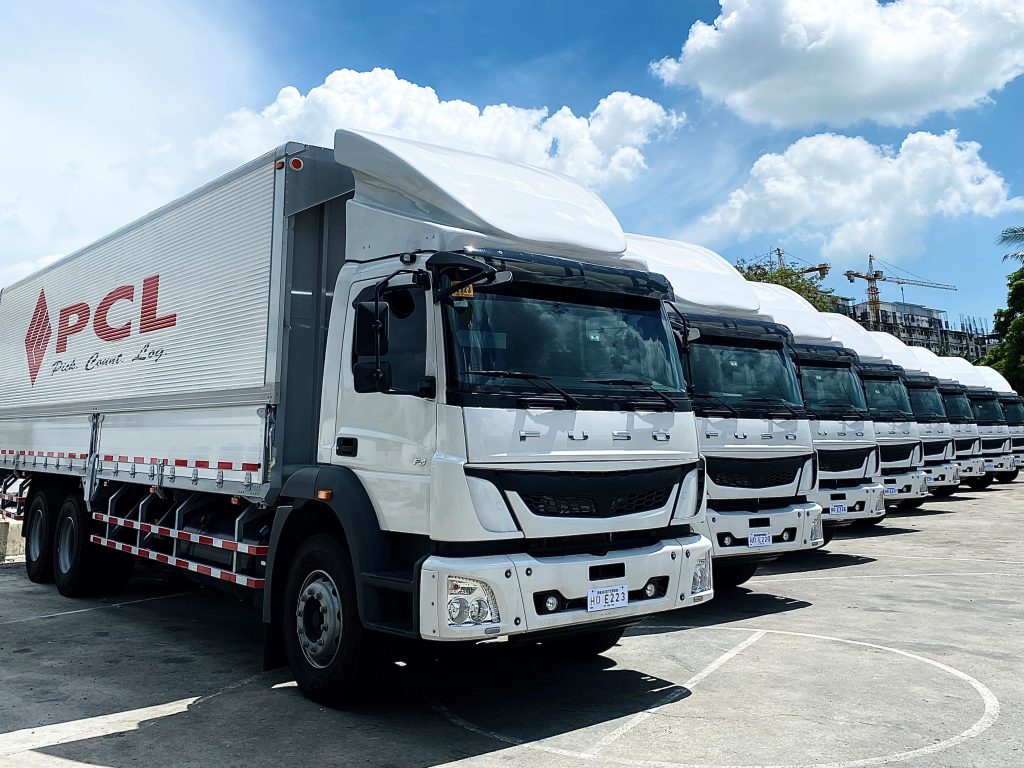 Manila, Philippines — Sojitz Fuso Philippines Corporation (SFP), the general distributor of FUSO and one of the Philippines' primary commercial vehicle distributors of brand-new trucks and buses, fueled its partnership with Producers Connection Logistics, Inc. (PCL).
Last September 11, PCL marked a significant milestone by strengthening its fleet with the addition of eight (8) new FUSO FJ 2528R, further solidifying its commitment to efficient and smoother business operations – allowing PCL to meet customer demands more effectively and deliver excellent services. A total of 15 FJ units with their first turnover last March 18, 2022, facilitated by 1Dynamix Automotive, Inc. – FUSO Kawit.
Established in 2003, PCL is focused on the growing demand for logistics services to keep business stable and steadfast. Through strategic plans offering reliable outsourcing services, PCL has expanded its Contract Warehousing and Logistics to allow its client to reduce costs. This includes managing assets and labor, enhancing flexibility, and reducing investments in assets. Through this partnership, SFP aims to provide PCL and its network improved operational efficiency.
The FUSO FJ 2528R's durability and performance make it ideal for the distribution of products across the country. Powered by a reliable engine, the FJ is designed for quicker and smoother operation, better acceleration, and fuel economy.
"Our operation is continuously evolving to adapt to the needs of our customers. We are now entering this new phase of our operation as we run our own fleet of trucks. We believe that we chose the right business partner and truck brand that will help us achieve our objective and vision given its known reliability and superior performance. This move allows us to be more flexible and cater to the demand of our business partners. This will also create an opportunity for our clients to expand their business and increase their reach as well. Optimizing our operation is our objective and we are looking forward to expanding further", says PCL management.
PCL is a proud 100% Filipino-owned corporation and has developed capabilities through the years. SFP is proud to turn over a brand-new FUSO fleet of reliable and high-quality trucks to support PCL and its partners in delivering their services in major regions.
FUSO products are a popular choice of logistics companies to support various businesses and industries. To learn more about FUSO Philippines' full commercial vehicle line-up, visit www.fuso.com.ph/models
Contact:
Advertising, Events & Public Relations
John Ferd Cabeliza, (02) 8234 2484, [email protected]
Jomary "Joms" Ilaw, (02) 8234 2484, [email protected]
Follow us on social media:
Facebook: www.facebook.com/FusoPhilippines
YouTube: www.youtube.com/c/FUSOPhilippines
Instagram: www.instagram.com/fuso.ph
TikTok: www.tiktok.com/@fuso.ph
Viber: bit.ly/FUSOPH-Viber-Channel
Sojitz Corporation at a Glance
As a general trading company, the Sojitz Group is engaged in a wide range of businesses globally, including buying, selling, importing, and exporting goods, manufacturing and selling products, providing services, and planning and coordinating projects, in Japan and overseas. The Group also invests in various sectors and conducts financing activities. The broad range of sectors in which Sojitz operates includes those related to automobiles, plants, energy, mineral resources, chemicals, foodstuff resources, agricultural and forestry resources, consumer goods, and industrial parks. Sojitz has run so many kinds of automotive business all over the world such as CKD production, wholesale, and Retail. In the case of the business in Philippine, Sojitz has been engaged to the automotive business since 1969.
Daimler Truck Asia at a Glance
Daimler Truck Asia (DTA), under Daimler Truck AG, is an organizational unit that jointly operates Mitsubishi Fuso Truck and Bus Corporation (MFTBC) – an icon in the Japanese commercial vehicle industry with 90 years of history with its FUSO brand – and Daimler India Commercial Vehicles (DICV), an up and rising challenger in the Indian market. DTA adopts a strategic business model that allows its group entities to collaborate on product development, production, exports, sourcing and research activity to provide innovative, cutting-edge and best value products to customers. DTA's vision is "to develop mobility solutions to embrace a better life for people and the planet," and is aligned with Daimler Truck's purpose, "For all who keep the world moving."
MFTBC at a Glance
Based in Kawasaki, Japan, Mitsubishi Fuso Truck and Bus Corporation (MFTBC) is one of Asia's leading commercial vehicle manufacturers, with 89.29% of its shares owned by Daimler Truck AG and 10.71% by various Mitsubishi group companies. An icon in the Japanese commercial vehicle industry with a longstanding history of 90 years with its FUSO brand, MFTBC manufactures a range of commercial vehicles including light, medium, and heavy-duty trucks and buses, and industrial engines for over 170 markets worldwide. In 2017, MFTBC introduced the eCanter, the first all-electric light-duty truck in series-production and in 2019, the Super Great – Japan's first heavy-duty truck fitted with Level 2 Automated Driving Support Technology, a benchmark in the Japanese commercial vehicle market. MFTBC operates under the umbrella of Daimler Truck Asia, together with its partner organization Daimler India Commercial Vehicles (DICV) in India. This strategic unit allows the entities to collaborate on areas such as product development, parts sourcing and production to provide the best value to customers.
FUSO at a Glance
FUSO is a Daimler Truck brand, offering a range of commercial vehicles from light, medium, and heavy-duty trucks and buses to industrial engines and connectivity solutions for over 170 markets worldwide. A longstanding landmark in Japan's commercial vehicle landscape, the brand has leveraged Japanese quality and craftsmanship over the decades. FUSO is particularly renowned for its offerings in the light-duty segment. The Canter light-duty truck claims the top market share in various markets around the world. In 2017 the eCanter became the first series produced all-electric light-duty truck in Japan, establishing FUSO as a pioneer in eMobility. FUSO promises customers a "Future Together," a bold claim that continues to drive the brand's contributions to safe and sustainable transport. This year marks the 90th anniversary of the FUSO brand, another milestone in its continuing legacy of setting benchmarks in efficiency, safety, and comfort.