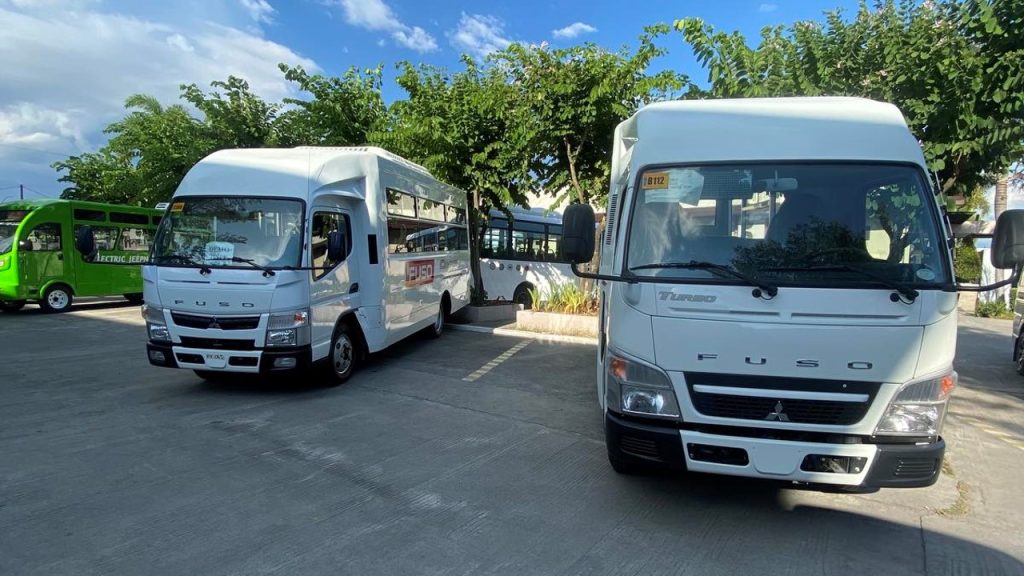 General Santos City, October 29, 2021 – Sojitz Fuso Philippines Corporation (SFP), the general distributor of FUSO trucks and bus in the Philippines successfully showcased the brand's modern PUV, the Canter Express, in the General Santos Commercial Vehicle Show in partnership with the National Federation of Transport Cooperative. The event was held at the Venue 88, Hotel and Events Place, General Santos City (GenSan) from October 29 to 30, 2021.
While GenSan is known for its big fish port and Tuna processing facilities, it has continually become more attractive now—with the presence of major economic infrastructure support facilities comparable to international benchmarks. Several business dealers are also operating vigorously showcasing their brands across the busy streets of the city, making it a good venue to present the FUSO modern PUVs.
This is the second time the Canter PUVs were presented in a Commercial Vehicle Show. Like the previous Cebu CVS last July 2021, the event's objective is to discuss the implementation of Public Utility Vehicle Modernization Program (PUVMP) across the country.
Senator Miguel Zubiri outlined the legislative plans for the transport cooperative emphasizing modernization loan applications. "Alam ko pong may sarili tayong challenges sa ating transport sector, at handa po akong tumulong maghanap ng solusyon para maayos nating maisagawa and PUV modernization dito." Zubiri stated. Addressing transport cooperatives concerns, Zubiri further discussed PUV modernization efforts to finally commence the program.

SFP together with its dealer, Mindanao Integrated Commercial Enterprises, Inc. (MICEI) exhibited the FUSO Canter Express showcasing the proven quality, durability, and strong performance of the brand's modern PUV.
Through the event, the GenSan Commercial Vehicle Show addressed the transport cooperatives concerns and queries about the government's PUV modernization program. By identifying the concerns or issues, the transport groups were able to collect information and fully understand the modernization program towards the new normal.
SFP remains committed as general distributor of FUSO trucks and bus in the country and is accelerating efforts aimed to further strengthen its growing business across nationwide. The exhibit of the FUSO modern PUVs is a further statement of the brand's commitment to technological innovations and high customer satisfaction.
To learn more about FUSO's full roster of modern PUVs in the Philippines, visit www.fuso.com.ph/models
FUSO at a Glance
FUSO is a brand of commercial vehicles manufactured by Mitsubishi Fuso Truck and Bus Corporation (MFTBC) and Daimler India Commercial Vehicles (DICV). Currently, FUSO represents a holistic line-up of products and services that match the needs of customers in over 170 markets. The FUSO product positioning covers a wide spectrum, from robust and economic trucks for growth regions, to cutting-edge mobility solutions with industry-leading technology and reduced environmental impact. FUSO is particularly renowned for its offerings in the light-duty segment – the Canter light-duty truck claims the top share in various markets around the world. Throughout the decades, FUSO trucks and buses have leveraged Japanese quality and craftsmanship to set benchmarks in efficiency, safety, and comfort.
MFTBC at a Glance
Based in Kawasaki, Japan, Mitsubishi Fuso Truck and Bus Corporation (MFTBC) is one of Asia's leading commercial vehicle manufacturers, with 89.29% of its shares owned by Daimler Truck AG and 10.71% by various Mitsubishi group companies. An icon in the Japanese commercial vehicle industry with a longstanding history of more than 85 years with its FUSO brand, MFTBC manufactures a range of commercial vehicles including light, medium, and heavy-duty trucks and buses, and industrial engines for over 170 markets worldwide. In 2017, MFTBC introduced the eCanter all-electric light-duty truck as a series-production model and in 2019, the Super Great – Japan's first heavy-duty truck fitted with Level 2 Automated Driving Support Technology, a benchmark in the Japanese commercial vehicle market. MFTBC operates under the umbrella of Daimler Trucks Asia, together with its partner organization Daimler India Commercial Vehicles (DICV) in India. This strategic unit allows the entities to collaborate on areas such as product development, parts sourcing and production to provide the best value to customers.
Daimler Trucks Asia at a Glance
Daimler Trucks Asia (DTA), under Daimler Truck AG, is an organizational unit that jointly operates Mitsubishi Fuso Truck and Bus Corporation (MFTBC) – an icon in the Japanese commercial vehicle industry with more than 85 years of history with its FUSO brand – and Daimler India Commercial Vehicles (DICV), an up and rising challenger in the Indian market. DTA adopts a strategic business model that allows its group entities to collaborate on product development, production, exports, sourcing and research activity to provide innovative, cutting-edge and best-value products to customers. DTA's vision is "to develop mobility solutions to embrace a better life for people and the planet," and is aligned with Daimler Truck's purpose, "For all who keep the world moving."
Sojitz Corporation
As a general trading company, the Sojitz Group is engaged in a wide range of businesses globally, including buying, selling, importing, and exporting goods, manufacturing and selling products, providing services, and planning and coordinating projects, in Japan and overseas. The Group also invests in various sectors and conducts financing activities. The broad range of sectors in which Sojitz operates includes those related to automobiles, plants, energy, mineral resources, chemicals, foodstuff resources, agricultural and forestry resources, consumer goods, and industrial parks. Sojitz has run so many kinds of automotive business all over the world such as CKD production, wholesale, and Retail. In the case of the business in Philippine, Sojitz has been engaged to the automotive business since 1969.
Follow us on social media:
Facebook: www.facebook.com/FusoPhilippines
Instagram: www.instagram.com/fuso.ph
YouTube: www.youtube.com/c/FUSOPhilippines
Viber: bit.ly/FUSOPH-Viber-Channel
Contact:
John Ferd Cabeliza, [email protected], (02) 8234 2484
Jomary "Joms" Ilaw, [email protected], (02) 8234 2484
Website: www.fuso.com.ph
E-mail: [email protected]