Manila, Philippines – Sojitz Fuso Philippines Corporation (SFP), the general distributor of FUSO, and one of the primary commercial vehicle distributors of brand-new trucks, buses and modern PUVs in the Philippines, has launched the automated-manual transmission (AMT) line of the FUSO Canter FE71 today, July 11, 2023 at the Filinvest Tent, Alabang, Muntinlupa City.
Canter has been in the service for 60 years since it was launched way back in 1963 and has been an essential vehicle for many businesses – transporting products or people from one place to another.
ADVANCED TECHNOLOGY
SFP has introduced some changes in terms of both safety and technology. The all-new Canter FE71 is engineered with a 4P10-KAT2 3.0L 4-inline Direct Injection Diesel Engine and complies with Euro 5 emission standards. Apart from the AMT line, the all-new Canter FE71 will now have a natural 11-footer option. Accordingly, with these newly available options, this dependable light-duty truck will now come in 4 variants such as 10ft. Manual Transmission (MT), 10ft. AMT, 11ft. MT, and 11ft. AMT.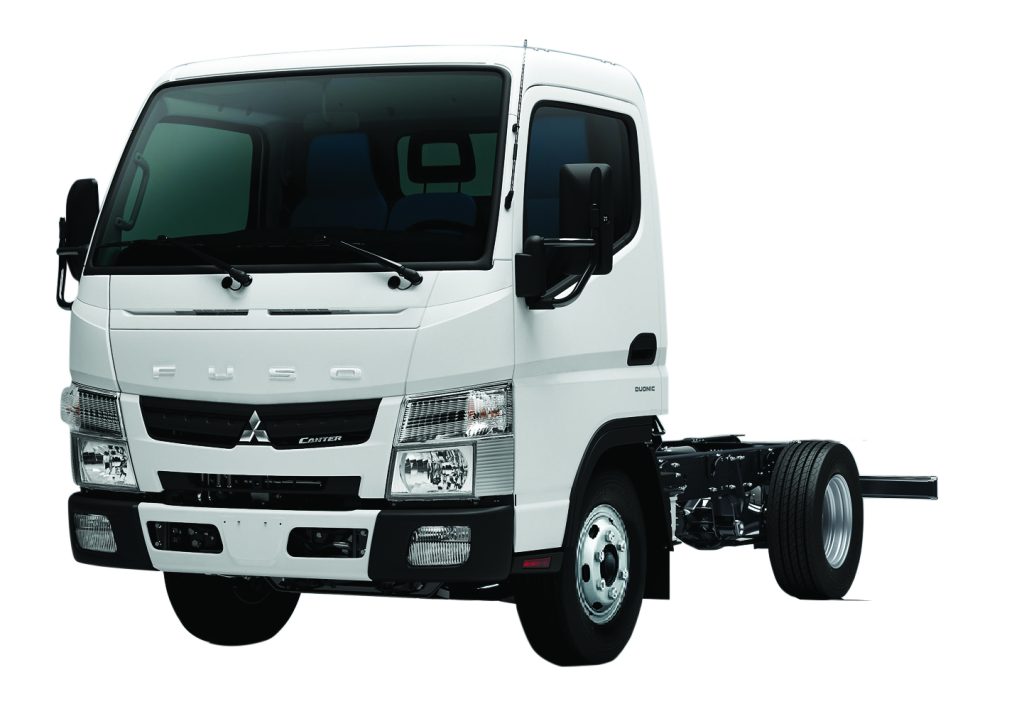 SAFE AND COMFORTABLE
The upgraded Canter FE71 comes with advanced safety features as a standard for better vehicle control. The existing front and rear disc brake comes with a modern Anti-Lock Braking System (ABS) and Electronic Brakeforce Distribution (EBD) that provides another level of safety and assurance.
This is also the first time SFP is introducing the DUONIC® automated-manual transmission for the FUSO Canter light-duty truck, in the Philippines. The all-new Canter FE71 is equipped with a six-speed dual-clutch transmission that is designed for smoother performance, better acceleration, and fuel efficiency for a more comfortable driving experience.
TRADEMARK EXTERIOR DESIGN
On the exterior, the all-new Canter FE71 still features a modern cab design featuring the V-line concept, angular headlamp shape, and horizontal character line in the front fascia emphasizing the clean look and creating a sense of forwarding motion. It still shows off its Reinforced Impact Safety Evolution or R.I.S.E Body that guarantees stronger and safer cab-over-engine (COE) concepts.
The all-new Canter FE71 also maintains an easy-to-tilt cab with a wide tilt angle, allowing unrestricted vehicle maintenance access to the engine bay.
ACCESSIBLE INTERIOR
In the interior, the all-new Canter FE71 incorporates a new meter cluster with a multi-information display that presents average and instant fuel consumption data. The tilt and telescopic adjustable steering wheel and dash-mounted gear shift ensure smooth operation and makes it easier for the driver to find a more comfortable driving position.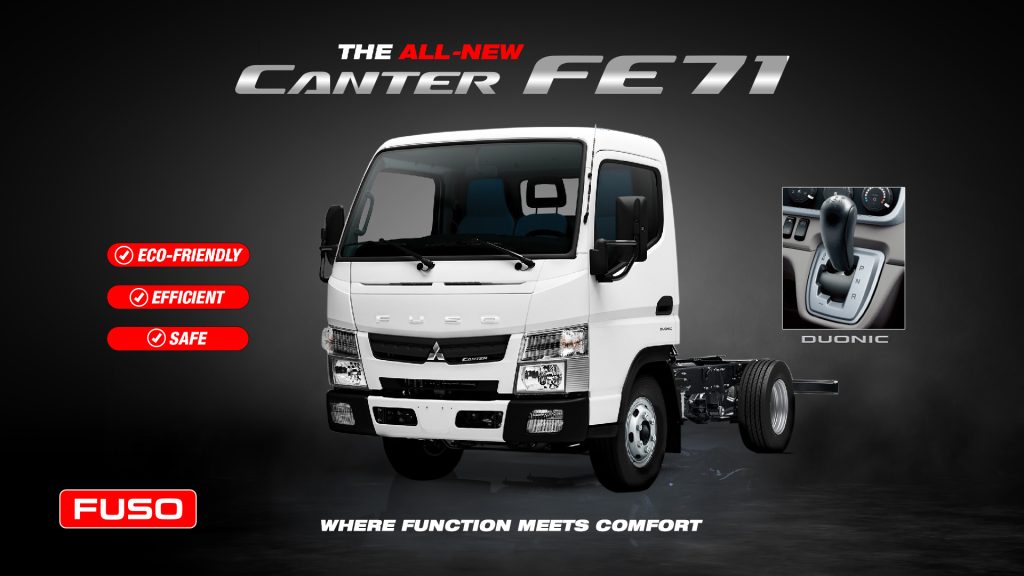 FUEL EFFICIENT
The all-new Canter FE71 AMT achieved an impressive fuel consumption figure of 11.6km per liter over nearly 356 kilometers while simulating the actual road environment with a mixture of different actual driving conditions, regulated road speed limits, and light to-no traffic system.
Carrying a weight equivalent to 50% of its payload capacity (or 1,000 kg cargo), the all-new Canter FE71 demonstrated actual delivery situation, as well as achieving reliable results. It was observed and certified by Automobile Association Philippines (AAP) last June 28, 2023.
| | |
| --- | --- |
| The all-new Canter FE71 AMT With 10-footer Drop Side body | 11.6 km/l |
SFP continues to emphasize its brand promise of – "Economic Efficiency" – with the recent release of impressive fuel economy figures which can add as unique selling point for customers to consider before purchasing.
Mr. Noriyuki Sekita, SFP EVP for Sales and Marketing mentioned in his speech, "… this will not be possible without our real VIPs – our customers. FUSO values every customer from the inquiry stage until successful purchases and after-sales services, whether big or small; we aim to participate in each of their successes through efficient and reliable FUSO products. This event marks a new level of innovation of Japanese quality, thus a milestone for FUSO."
The all-new Canter vehicle specifications available in the Philippine market.
| | | | | |
| --- | --- | --- | --- | --- |
| Model | Variant | Engine | Transmission | Features |
| Canter FE71 (Euro 5) | 10ft. MT, 10ft. AMT, 11ft. MT, 11ft. AMT | 4P10-KAT2 3.0L | 5-speed (MT), 6-Speed Duonic (AMT) | Disc Brakes with ABS & EBD LED Cabin Lamp Centralized Door Lock Power Windows Multi-Information Display (MID) |
"The all-new Canter FE71 is the epitome of excellence in the commercial truck segment, setting the industry standard for performance, reliability, and customer satisfaction. Beyond the technical specifications and features mentioned lies a deeper significance. The FUSO Canter FE71 is not just a vehicle; it is a partner—an integral part of countless businesses, large and small, that rely on it to keep their operations running smoothly. It is a vehicle that enables dreams to become a reality, businesses to thrive, and communities to prosper." says SFP President & CEO, Mr. Yosuke Nishi.
Besides offering durable and reliable commercial vehicles, SFP also provides comprehensive aftersales support and a fleet program for valued customers. SFP will continue to work hand-in-hand with its dealer partners to attend to every client in their business needs.
Canter has recorded top sales for SFP among the full product portfolio and is expected to strengthen its presence nationwide with the launch of the all-new Canter FE71.
To learn more about pricing and complete details, you may visit your preferred FUSO dealership near you or contact us by filling-out this form www.fuso.com.ph/contact-us
*DUONIC® is a registered trademark of Daimler AG.
Contact:
Advertising, Events & Public Relations
John Ferd Cabeliza, (02) 8234 2484, [email protected]
Jomary "Joms" Ilaw, (02) 8234 2484, [email protected]
Follow us on social media:
Facebook: www.facebook.com/FusoPhilippines
Instagram: www.instagram.com/fuso.ph
YouTube: www.youtube.com/c/FUSOPhilippines
Viber: bit.ly/FUSOPH-Viber-Channel
Sojitz Corporation at a Glance
As a general trading company, the Sojitz Group is engaged in a wide range of businesses globally, including buying, selling, importing, and exporting goods, manufacturing and selling products, providing services, and planning and coordinating projects, in Japan and overseas. The Group also invests in various sectors and conducts financing activities. The broad range of sectors in which Sojitz operates includes those related to automobiles, plants, energy, mineral resources, chemicals, foodstuff resources, agricultural and forestry resources, consumer goods, and industrial parks. Sojitz has run so many kinds of automotive business all over the world such as CKD production, wholesale, and Retail. In the case of the business in Philippine, Sojitz has been engaged to the automotive business since 1969.
Daimler Truck Asia at a Glance
Daimler Truck Asia (DTA), under Daimler Truck AG, is an organizational unit that jointly operates Mitsubishi Fuso Truck and Bus Corporation (MFTBC) – an icon in the Japanese commercial vehicle industry with 90 years of history with its FUSO brand – and Daimler India Commercial Vehicles (DICV), an up and rising challenger in the Indian market. DTA adopts a strategic business model that allows its group entities to collaborate on product development, production, exports, sourcing and research activity to provide innovative, cutting-edge and best value products to customers. DTA's vision is "to develop mobility solutions to embrace a better life for people and the planet," and is aligned with Daimler Truck's purpose, "For all who keep the world moving."
MFTBC at a Glance
Based in Kawasaki, Japan, Mitsubishi Fuso Truck and Bus Corporation (MFTBC) is one of Asia's leading commercial vehicle manufacturers, with 89.29% of its shares owned by Daimler Truck AG and 10.71% by various Mitsubishi group companies. An icon in the Japanese commercial vehicle industry with a longstanding history of 90 years with its FUSO brand, MFTBC manufactures a range of commercial vehicles including light, medium, and heavy-duty trucks and buses, and industrial engines for over 170 markets worldwide. In 2017, MFTBC introduced the eCanter, the first all-electric light-duty truck in series-production and in 2019, the Super Great – Japan's first heavy-duty truck fitted with Level 2 Automated Driving Support Technology, a benchmark in the Japanese commercial vehicle market. MFTBC operates under the umbrella of Daimler Truck Asia, together with its partner organization Daimler India Commercial Vehicles (DICV) in India. This strategic unit allows the entities to collaborate on areas such as product development, parts sourcing and production to provide the best value to customers.
FUSO at a Glance
FUSO is a Daimler Truck brand, offering a range of commercial vehicles from light, medium, and heavy-duty trucks and buses to industrial engines and connectivity solutions for over 170 markets worldwide. A longstanding landmark in Japan's commercial vehicle landscape, the brand has leveraged Japanese quality and craftsmanship over the decades. FUSO is particularly renowned for its offerings in the light-duty segment. The Canter light-duty truck claims the top market share in various markets around the world. In 2017 the eCanter became the first series produced all-electric light-duty truck in Japan, establishing FUSO as a pioneer in eMobility. FUSO promises customers a "Future Together," a bold claim that continues to drive the brand's contributions to safe and sustainable transport. This year marks the 90th anniversary of the FUSO brand, another milestone in its continuing legacy of setting benchmarks in efficiency, safety, and comfort.