Manila, Philippines – Sojitz Fuso Philippines Corporation (SFP), the general distributor of FUSO, and one of the primary commercial vehicle distributors of brand-new trucks, buses and modern PUVs in the Philippines, has launched the automated-manual transmission (AMT) line of the FUSO Canter FE71 today, July 11, 2023 at the Filinvest Tent, Alabang, Muntinlupa City.
Canter has been in the service for 60 years since it was launched way back in 1963 and has been an essential vehicle for many businesses – transporting products or people from one place to another.
ADVANCED TECHNOLOGY
SFP has introduced some changes in terms of both safety and technology. The all-new Canter FE71 is engineered with a 4P10-KAT2 3.0L 4-inline Direct Injection Diesel Engine and complies with Euro 5 emission standards. Apart from the AMT line, the all-new Canter FE71 will now have a natural 11-footer option. Accordingly, with these newly available options, this dependable light-duty truck will now come in 4 variants such as 10ft. Manual Transmission (MT), 10ft. AMT, 11ft. MT, and 11ft. AMT.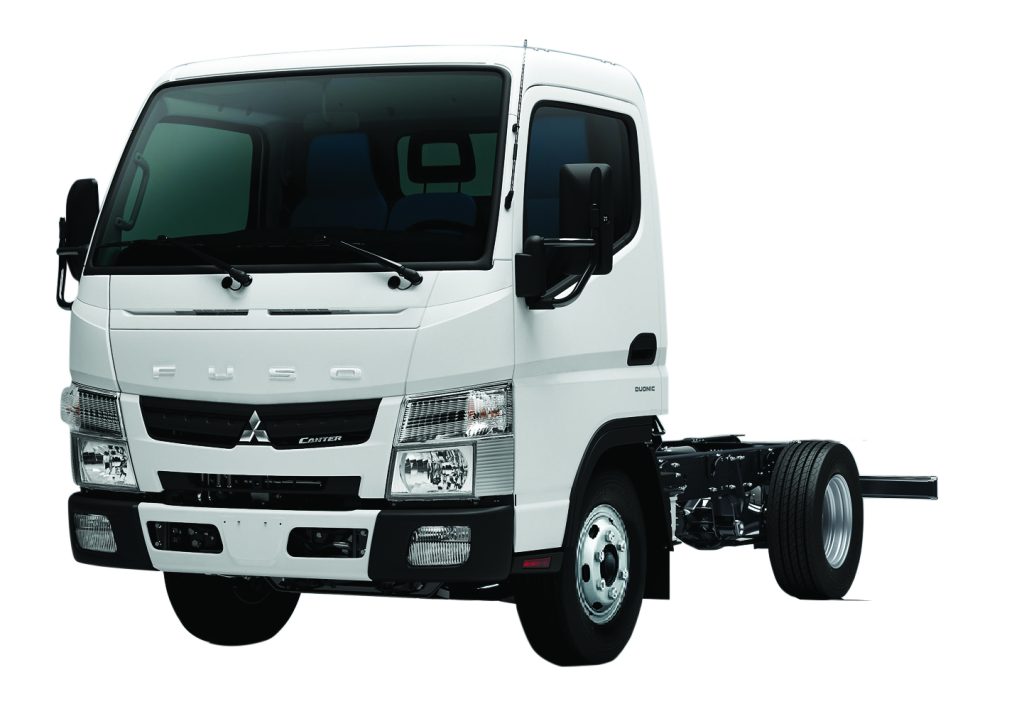 SAFE AND COMFORTABLE
The upgraded Canter FE71 comes with advanced safety features as a standard for better vehicle control. The existing front and rear disc brake comes with a modern Anti-Lock Braking System (ABS) and Electronic Brakeforce Distribution (EBD) that provides another level of safety and assurance.
This is also the first time SFP is introducing the DUONIC® automated-manual transmission for the FUSO Canter light-duty truck, in the Philippines. The all-new Canter FE71 is equipped with a six-speed dual-clutch transmission that is designed for smoother performance, better acceleration, and fuel efficiency for a more comfortable driving experience.
TRADEMARK EXTERIOR DESIGN
On the exterior, the all-new Canter FE71 still features a modern cab design featuring the V-line concept, angular headlamp shape, and horizontal character line in the front fascia emphasizing the clean look and creating a sense of forwarding motion. It still shows off its Reinforced Impact Safety Evolution or R.I.S.E Body that guarantees stronger and safer cab-over-engine (COE) concepts.
The all-new Canter FE71 also maintains an easy-to-tilt cab with a wide tilt angle, allowing unrestricted vehicle maintenance access to the engine bay.
ACCESSIBLE INTERIOR
In the interior, the all-new Canter FE71 incorporates a new meter cluster with a multi-information display that presents average and instant fuel consumption data. The tilt and telescopic adjustable steering wheel and dash-mounted gear shift ensure smooth operation and makes it easier for the driver to find a more comfortable driving position.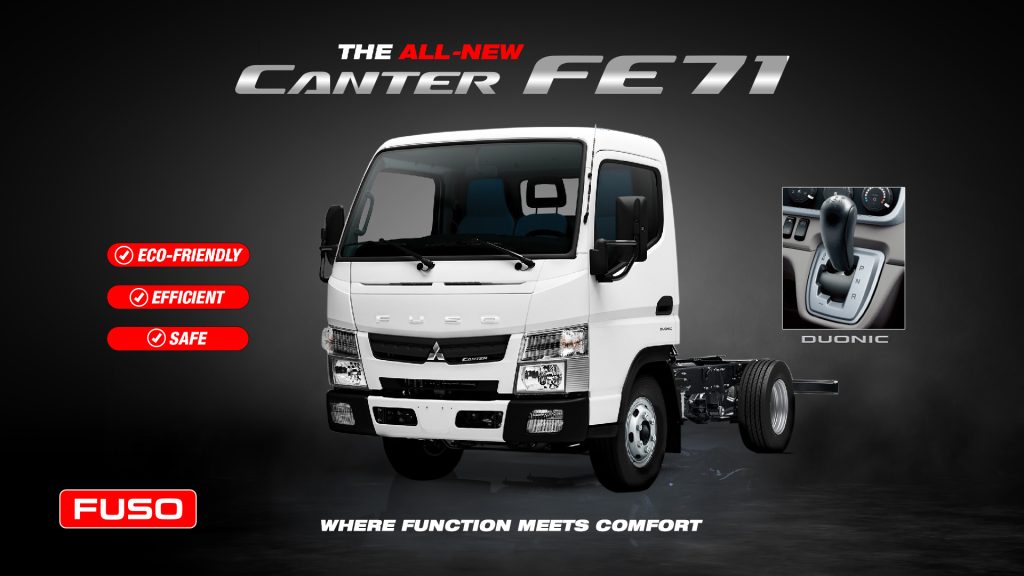 FUEL EFFICIENT
The all-new Canter FE71 AMT achieved an impressive fuel consumption figure of 11.6km per liter over nearly 356 kilometers while simulating the actual road environment with a mixture of different actual driving conditions, regulated road speed limits, and light to-no traffic system.
Carrying a weight equivalent to 50% of its payload capacity (or 1,000 kg cargo), the all-new Canter FE71 demonstrated actual delivery situation, as well as achieving reliable results. It was observed and certified by Automobile Association Philippines (AAP) last June 28, 2023.
| | |
| --- | --- |
| The all-new Canter FE71 AMT With 10-footer Drop Side body | 11.6 km/l |
SFP continues to emphasize its brand promise of – "Economic Efficiency" – with the recent release of impressive fuel economy figures which can add as unique selling point for customers to consider before purchasing.
The all-new Canter vehicle specifications available in the Philippine market.
| | | | | |
| --- | --- | --- | --- | --- |
| Model | Variant | Engine | Transmission | Features |
| Canter FE71 (Euro 5) | 10ft. MT, 10ft. AMT, 11ft. MT, 11ft. AMT | 4P10-KAT2 3.0L | 5-speed (MT), 6-Speed Duonic (AMT) | Disc Brakes with ABS & EBD LED Cabin Lamp Centralized Door Lock Power Windows Multi-Information Display (MID) |
Besides offering durable and reliable commercial vehicles, SFP also provides comprehensive aftersales support and a fleet program for valued customers. SFP will continue to work hand-in-hand with its dealer partners to attend to every client in their business needs.
Canter has recorded top sales for SFP among the full product portfolio and is expected to strengthen its presence nationwide with the launch of the all-new Canter FE71.
To learn more about pricing and complete details, you may visit your preferred FUSO dealership near you or contact us by filling-out this form www.fuso.com.ph/contact-us
*DUONIC® is a registered trademark of Daimler AG.